Abies alba 'Argau'
so: Stanley and Sons (online catalog 2003), name only
Abies alba var. acutifolia Turrill = A. x borisii-regis
Abies alba alpina Svoboda
ns: a old dubious name. Unclear synonomy.
Abies alba 'Apennina'
ns: a listed name based n Svoboda. It is in the trade in 2003. Description needed.
Abies alba 'Aurea' ('Auricoma')
lc: leaves both yellow and green, reverting often.
Abies alba 'Aureovariegta' (A. pectinata aureovariegata Senec.)
lc: variegated yellow
ns: it may well be 'Aurea'
Abies alba 'Brevifolia'
ha: dwarf
lw, ll: needles shorter, wider
Abies alba var. bulgarica Svoboda = A. x borisii-regis
Abies alba 'Columnaris'
ha: narrower, columnar, branchlets of equal length and shorter than typical
ll: needles slightly shorter than species typical
eval: 'Pyramidalis' is wider but has been more popular over the decades
Abies alba 'Compacta'
ha: dwarf, globose, dense, wider than tall
lc: glossy dark green, glossier than most clones
Abies alba 'Cree's Blue'
lc: apparently bluish
or: Cree Nurseries, Colebrook NH USA before 1987
Abies alba 'Elegans'
ha: dwarf, compact
ll: shorter
la: somewhat bifid
so: thought to be lost to cultivation
Abies alba 'Fastigiata'
ha: narrowly pyramidal to columnar, branches dense and slender, said to be the outline of a lombardy poplar in time
ll: shorter than typical
Abies alba f. flabellata Beiss.
ha: spreading, branches distichous
ns: given the botanical form rank as it was never cultivated
Abies alba 'Globosa'
ns: a listed name from the trade. Not legitimate.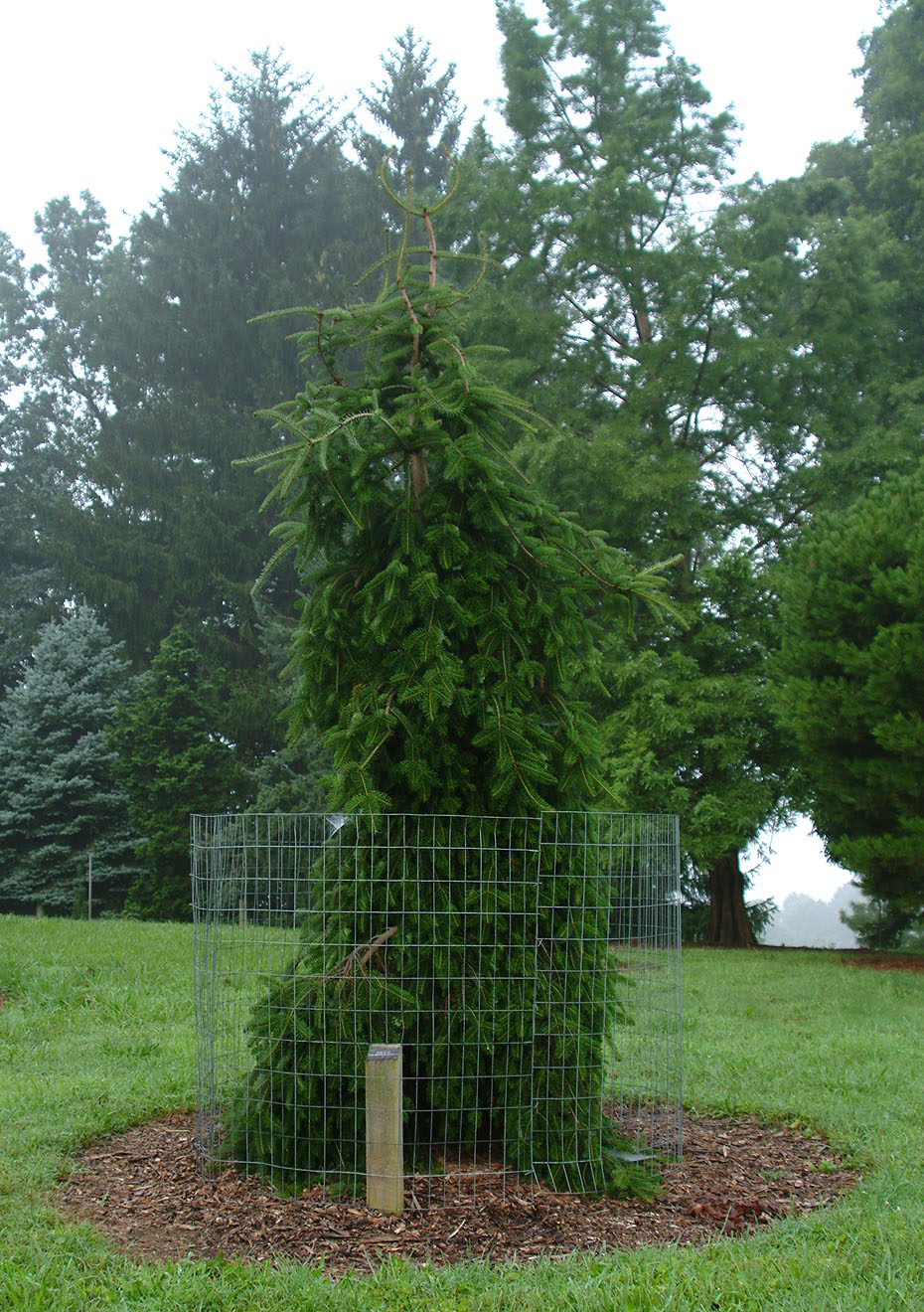 'Green Spiral' - click image to enlarge
Dawes Arboretum. August 2003. A fresh green beyond fantasy and graceful twisting-weeping way. One can hardly wait until a couple of decades make a masterpiece of it. If you want living art this is one cultivar to get and get going now. A grove of them would be conifer heaven.
Abies alba 'Green Spiral'
ht: 20-30 ft. tall
ha: vigorous, semi-pendulous and spiraled to lightly contorted.
lc: glossy rich green
or: Secrest Arboretum OH USA received in 1916 from Biltmore Nur. NC USA as 'Tortuosa'
id: true 'Tortuosa' is slow to dwarf and more erect
Abies alba 'Irramosa' (var. virgata f. irraomosa)
ha: "trunk without branches" (denOuden & Boom 1965), dense foliage
Abies alba 'Massonii'
ha: needles radially born, resembling A. pinsap
Abies alba f. microcarpa Nelson
frd: female cones smaller than species typical
Abies alba 'Microphylla'
ha: dwarf, dense, branches short and thin
bud: red, resinous, smaller
lw: needles thinner
Abies alba minor Masters
ns: a doubtful old name, perhaps for a dwarf or smaller version
Abies alba 'Nana'
ht: 2m tall
ha: dwarf, shrubby, compact, often irregular, can resemble A. balsamea 'Nana'
Abies alba 'Nana Globosa'
ha: globose, dwarf, probably a clone of 'Nana' type with more regular foliage
Abies alba parsonii Mattfeld
ns: a old listed name, presumably tracing to Parsons Nursery NY USA which grew many conifers
Abies alba 'Pendula'
ht: 10-15m tall
ha: upright, pendulous, all limbs drooping or hanging down. Plants are slow at first but later can dominate a landscape.
Abies alba 'Pendula Gracilis'
ha: as 'Pendula but limbs longer and drooping more
Abies alba polonica Svobosa
ns: a named variant, somewhat doubtful in scope.
Abies alba 'Prostrata' = 'Nana' or 'Tortuosa' or perhaps a spreading cultivariant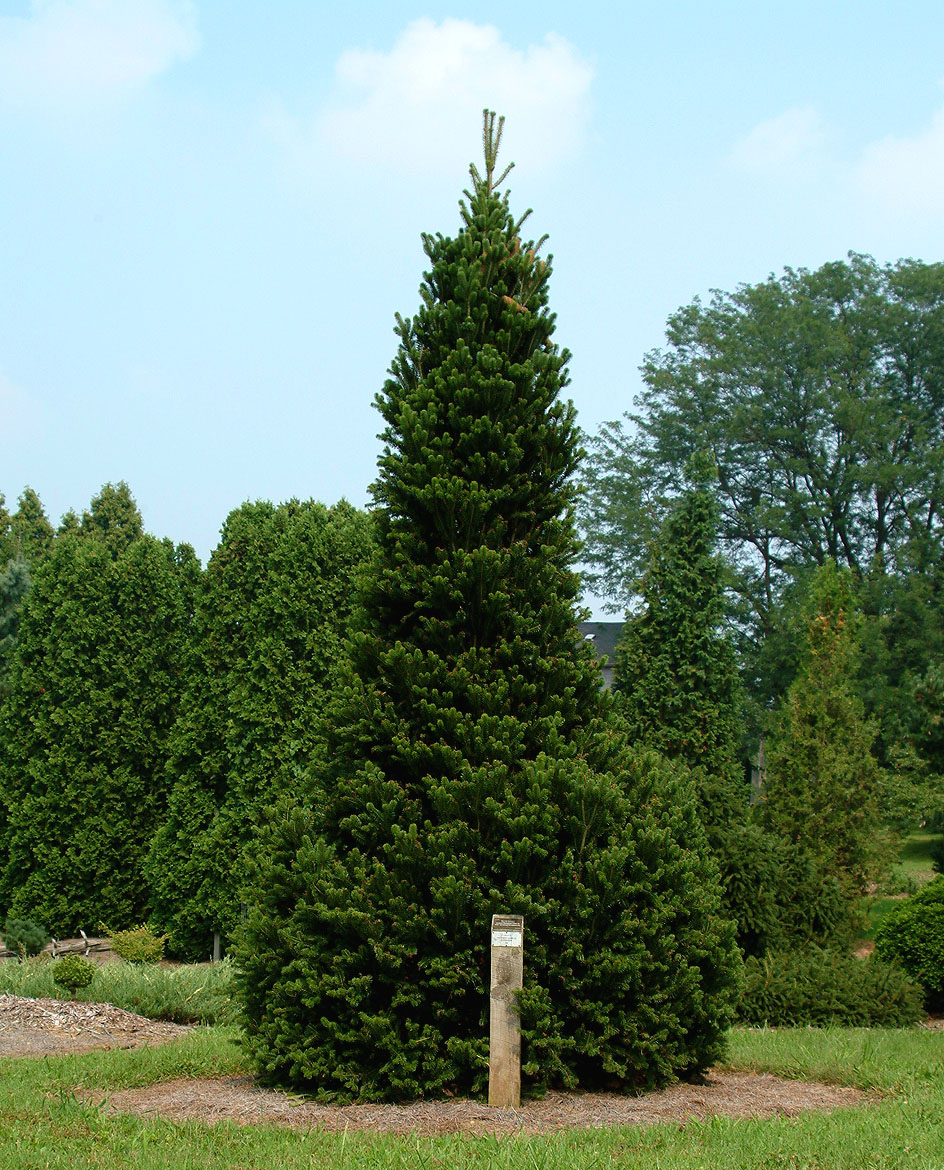 'Pyramidalis' - click image to enlarge
Dawes Arboretum. August 2003. A stunning tree with many ascending, short limbs and wonderful rich colors.
Abies alba 'Pyramidalis'
ht: 7-10m
ha: columnar at first, later pyramidal, often much wider at the base, branches distinctly erect at 30-45 deg. and shorter. Conical in many years.
lc: glossy dark green
Abies alba f. recurva Senec.
ha: branches recurved and semi-pendulous
Abies alba spinescens Beck
ns: a old listed name, not established nor clear.
Abies alba 'Tenuifolia'
lt: needles thin, tender
Abies alba 'Tenuiorifolia'
ll, lw: needles larger and thinner than typical
frd: female cones to 30cm long
ns: it is distinct from 'Tenuifolia'
Abies alba 'Tortuosa'
ha: dwarf to compact, branches twisted and usually ascending
lc: glossy dark green
Abies alba 'Umbraculifera'
ha: umbrella-shaped, branches thicker and shorter, arching and spreading overall
Abies alba 'Variegata'
lc: faintly marked white
lt: needles often unequal in size or shape
Abies alba 'Virgata'
ha: branches elongated, narrow, and scarcely branched, needles along the main branches at first, some limbs hanging down