Abies fraseri 'Coerulea' ('Caerulea')
ha: low, spreading, vigorous
lc: more rich blue-green
Abies fraseri 'Compacta'
ha: compact, dwarf
Abies fraseri 'Fantasticooli'
ns: a listed name from Arrowhead Alpines 2003. Description unclear from their catalog.
Abies fraseri 'Franklin'
ha: miniature, from a witches broom
Abies fraseri 'Frederick'
ha: narrowly columnar to fastigiate, far narrower than most plants
lc: dark green
or: Don Frederick, Evergreen Gardens Nursery, Blairsville PA USA 1970
li: American Conifer Society. 2003. World Conifer Database. online records.
Abies fraseri 'Gee' ('Gee's WB' illegitimate)
ha: dwarf, from witches broom
Abies fraseri 'Hal' (Hal's)
ha: witches broom dwarf
Abies fraseri 'Julian Potts'
ha: miniature
Abies fraseri 'Klein's Nest' ('Kline's Nest')
ht: 1 ft. tall x 3 ft. wide
ha: dwarf, mounded to low-spreading, similar to P. abies 'Nidiformis' in time, often somewhat irregular
frq: female cones purple, a bonus for a dwarf cultivar
Abies fraseri 'Nana'
ha: dwarf
ns: this post-1959 Latin is almost certainly illegitimate.
Abies fraseri 'Prostrata' (f. prostrata Rehd., 'Horizontalis')
ha: 1.2m tall x 4.0m wide when young, dimensions of 4 ft. tall x 12 ft. wide are reported.
st: twigs often reddish pubescent in the most common clone
ha: spreading to horizontal shrub, generally compact, usually without any leader
Abies fraseri 'Raul's Dwarf'
ns: a listed name with Kenwith Nursery UK 2001. Related to 'W.B. Rauls'?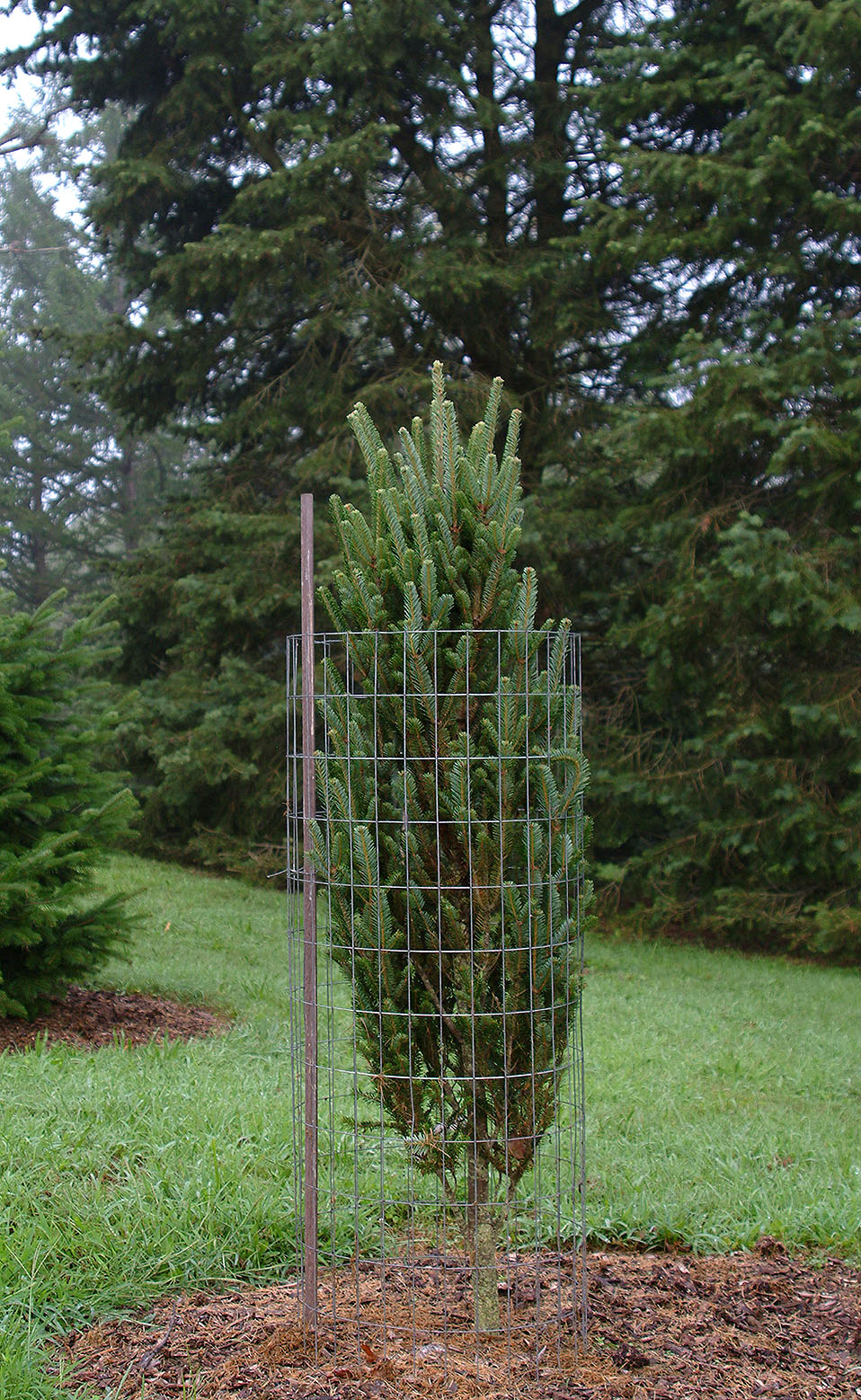 'Reeseville Ridge' - click image to enlarge
Conifer Collection, Dawes Arboretum. Summer 2003. 'Frederick' is narrow by limbs hanging down and this rare clone
is narrow by limbs going straight up. This reminds me of how Fraser firs come bagged on trucks before Christmas.
Abies fraseri 'Reeseville Ridge'
ha: narrowly columnar, limbs distinctly erect at 15-25% angle
Abies fraseri 'Recker No. 1' provisional name
ha: miniature, from a witches broom
Abies fraseri 'Vasti' ('Ken Franke Prostrate')
ha: low, prostrate
or: Ken Franke as seedling
Abies fraseri 'W.B. Rauls'
ns: a listed name from the US trade c. 2003
Abies fraseri 'Wingle's Blue Bonnet' ('Blue Bonnet')
ha: dwarf, conical, 2-4 inches growth a year
lc: rich blue - the most blue seedling known to date (2003)
or: Mat Wingle 1987 from a seedling at the Christmas tree farm