NOS
AMELANCHIER
PAGE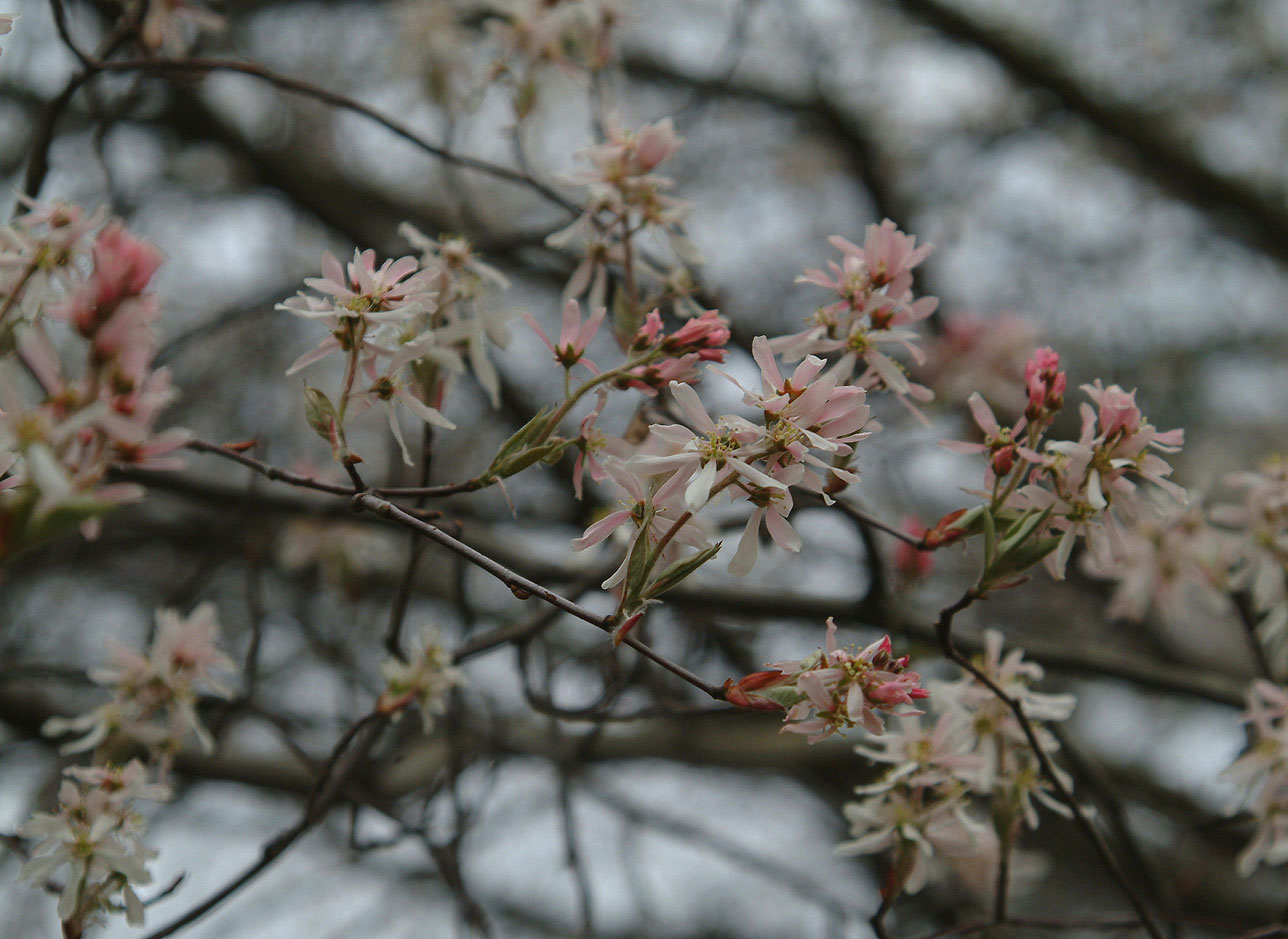 x grandiflora 'Robin Hill' - click image
Brookside Gardens, Maryland USA. April 2004. Here was a 20 foot wow tree that makes one forget even the famous cherries and magnificient magnolias of the greater DC area.
I'd forgotten how completely amazing this cultivar is when the right conditions exist: cool yet sunny enough for good persistant pigments, large mature tree to support heavy flowering,
and a spot close to a path for easy viewing. The pink-budded serviceberries truly deserve our (your?) attention for more breeding. Smaller and narrow habits would be welcome.
Obviously, richer darker floral colors of greater persistance surely are in the gene pool for a little digging? LCH.
Copyright 1998, 2002-2004. New Ornamentals Society. All Rights Reserved.
Lawful for online access only by current society members.
All downloading, printing, saving to media, imaging, screen capture, or offline use is prohibited.
Duplication by any means, method, or technology is unlawful.
Do not link to this page.
---
Amelanchier alnifolia 'Altaglow'
afc: numerous showy fall colors
Amelanchier alnifolia 'Honeywood'
ha: dense and compact
ht: 4-6 ft.
fc: white
fq: abundant
frq: to 15 berries per cluster
or: A.J. Porter of Lakeshore Nur. Ltd. Canada
rd: COPF 1 Jan 1974
li: Canadian Orn. Plant Found. 1976. List of registered varieties. p. N-1

Amelanchier alnifolia 'Obelisk'
so: wholesale source (Firma C. Esveld)

Amelanchier alnifolia 'Regent'
ha: mounded to globose shrub
ht: 4-6 ft. tall x 4-6 ft. wide
fc: white
fd: larger than species typical
afc: orange and yellow shades
ch: 2 - therefore useful in northern US and Canada
so: Spring Meadow Nursery Inc. 1-800-633-8859

Amelanchier alnifolia 'Smokey'
frd: larger than species typical, edible and popular for pomological applications
Amelanchier alnifolia 'Success'
frq: abundant edible fruit
Amelanchier bartramiana 'Eskimo'
so: wholesale source (Firma C. Esveld)
Amelanchier canadensis 'Prince William'
ht: 8-10 ft. tall x narrower
ha: shrubby to small tree
lc: new growth tinged red becoming glosy green
afc: orange-red
pat: US# 6040
ch: to -30 deg. F.
or: Madison WI USA
ns: could have A. laevis but is is very close to true A. canadensis
li: Dirr, M.A. 1998. Man. Woody Land. Plts. Stipes. p. 92
Amelanchier canadensis SPRING GLORY™ 'Sprizam'
ht: 12 ft. tall x 8-10 ft. wide
ha: upright oval crown, compact
frc: purplish black
fc: white
lc: grey green
ac: reliably bright gold to orange
php: 5-6
tm: unregistered tm has been used
so: Lake County Nursery
ch: 4

Amelanchier canadensis TRADITION® 'Trazam'
ht: 25 ft. tall x 15 ft. wide
ha: upright oval with central leader (unlike most)
frc: blue to black and liked by urban birds
frq: abundant fruit
lc: greyish green
ch: 4
ac: red to orange shades
lu: leader makes it more suitable for street and urban use
so: Lake County Nursery
tm: unregistered tm has been used

Amelanchier x grandiflora 'Autumn Applause'
or: W. Wandell of Urbana IL
in: McGill Nur. of Fairview OR c. 1990
li: Jacobson, A.L. 1996. North American landscape trees. Ten Speed Press,
li: Berkeley, California. p. 76

Amelanchier x grandiflora 'Autumn Brilliance'
ht: 20-25 ft.
ha: arborescent (tree-form) with strong limbs to resist ice damage
bk: light gray
afc: reliable bright red to orange
frc: purplish-black
ch: to -35 deg. F.
or: Bill Wandell, IL USA
pat: US #5717 in 1986
eval: Dirr puts it in his Top 3 along with 'Ballerina' and 'Princess Diana'.
Amelanchier x grandiflora 'Autumn Sunset'
ht: 20-25 ft.
afc: rich orange, reliable in GA USA trials
ld: good leaf retention in summer
or: Dr. Michael Dirr 1986 as selected seedling from Univ. of Georgia campus
ch: to -24 deg. F.
lu: tolerant of southern US heat and drought which is not true of all selections from northern stock
li: Dirr, M.A. 1998. Man. Woody Land. Plts. Stipes. p. 91
photo: Nobleplants.com

Amelanchier x grandiflora 'Ballerina'
ht: 15-20 ft. - a tad shorter than some clones
ha: small tree, upright
lc: bronze tinged new growth becoming dark green
afc: purplish-bronze to dark orange-red
infl: raceme 3-5 in. long
dr: leaf spot and fireblight resistant to date (2002)
or: Boskoop Exper. Station, Netherlands from plants obtained from Hillier Nur. as A. ovalis
in: originator 1980
so: source (Station House)

Amelanchier x grandiflora 'Cole's Select' ('Cole')
ht: 20-25 ft.
ha: strong vigorous crown in upright oval form, later upright-spreading
lt: thicker blades than most clones
lc: glossier green
afc: reliable red to orange-red fall color
ch: 4
or: Cole Nursery, Circleville OH USA
ns: it was not named by the Cole Nursery but has been offered many places under this name.
so: Spring Meadow Nursery Inc. 1-800-633-8859

Amelanchier x grandiflora 'Cumulus'
ha: tall and vigorously upright
ht: 30 ft.
fq: very abundant
fd: larger than species typical
lt: thicker blades
frc: red becoming purplish
afc: orange and red shades
dr: red gall can infect plants in some areas. Jacobson reports it is
dr: weakened in Seattle by this gall. Fireblight is a problem is some areas.
or: Princeton Nur. of Princeton NJ c. 1970
pat: US #3092 in 1972
ns: by some reports it is pure A. laevis.
so: source (Nonesuch Nursery)

Amelanchier x grandiflora 'Forest Prince'
ha: small tree
ht: 15-25 ft. x 8-12 ft. wide
fc: white
ff: fragrant
frc: red
afc: bright red and orange shades
bk: furrowed - said to be ornamental
ch: 4
so: source (Wayside Gardens)
Amelanchier x grandiflora 'Princess Diana'
ha: tall and spreading
ht: 25 ft.
fq: flowers more numerous
frc: purplish-blue
afc: reliable bright pinkish-red and persisting well.
or: Tom Watson of Cambridge WI from plants at Elm Grove WI
pat: US #6041 in 1987
Amelanchier x grandiflora RAINBOW PILLAR® 'Glenn's Upright'
ha: narrowly upright, sometimes shrubby
ht: 25 ft.
afc: red, orange, yellow shades, hence the rainbow part of the trademark name.
dr: mildew resistant
or: Twombly Nur. of Monroe Ct. c. 1994
li: Jacobson, A.L. 1996. North American landscape trees. Ten Speed Press,
li: Berkeley, California. p. 76
Amelanchier x grandiflora 'Robin Hill' ('Robin Hill PInk')
ht: 20-30 ft. tall x 12-15 ft. wide
fc: pink buds open white, giving the best color in a cool spring
afc: yellow to red shades
Amelanchier x grandiflora 'Rubescens'
ht: 20-25 ft. tall
fc: purplish-pink buds open light pink
or: Seneca Park, Rochester NY USA before 1920
eval: the best clone for pink coloration
Amelanchier x grandiflora 'Strata'
ha: horizontal branching - quite literally in strata
or: Dr. Hasselkus of the Univ. of WI c. 1988
Amelanchier laevis 'Jackie'
fruit: sweet, edible
li: Dirr, M.A. 1998. Man. Woody Land. Plts. Stipes. p. 92
Amelanchier laevis 'Lustre'
ns: merely described as a superior selection.
or: Carlton Nur. of CA c. 1993
tm: registered trademark as Lustre

Amelanchier laevis 'Majestic'
ha: tree-form and twice species size. Branches spread with wide angles
ha: (hence being termed majestic) forming a open and graceful crown.
ht: about twice species normal size - 30 ft. has been observed
fd: petals wider than typical
it: drooping raceme
lc: dark green
afc: scarlet to copper-orange tones
lt: resist heat and humid weather
dr: said to resist leaf spot
frc: purplish-black
pat: US #7203 in 1990
ns: 'Snowcloud' is sometimes regarded as a synonym but the two clones
ns: are described differently and listed apart in some catalogs. It is
ns: certainly possible we have two 'Snowclouds' but this is NOT confirmed.
or: named by William Flemer III or Princeton Nur. of NJ

Amelanchier laevis 'Prince Charles'
ha: rounded yet vigorous crown
fq: flowers more numerous
it: inflor. upright
lc: new growth slightly bronzed
afc: red and orange shades.
frc: purplish-blue
ns: with cultivar names 'Prince Charles' and 'Princess Diana' abundant jokes are made.
pat: US #6039 in 1987
in: c. 1989 by Tom Watson of Cambridge WI

Amelanchier laevis 'R.J. Hilton' (+)
ha: arborescent (tree form)
in: Univ. of Guelph Arb.
li: Hicklenton, P.R. and K.G. Cairnes. 1994. Amelanchier 'R.J. Hilton'.
li: HortScience 29(1): 43

Amelanchier laevis 'Silver Fountain'
ha: weeping, mounded to globose with age
li: Dirr, M.A. 1998. Man. Woody Land. Plts. Stipes. p. 92
Amelanchier laevis 'Snowcloud' = 'Majestic'? (some list them apart)
ha: narrow, upright
ns, pat: it has the same patent number as 'Majestic'. It is unclear which name is the cultivar.
so: source (Nonesuch Nursery)

Amelanchier laevis 'White Pillar'
ht: 20-30 ft. tall
ha: narrowly columnar
lc: darker green
bt: later than species typical
afc: orange-red
or: Peter Costich, Long Island NY USA
li: Dirr, M.A. 1998. Man. Woody Land. Plts. Stipes. p. 93
Amelanchier 'La Paloma'
so: wholesale source (Firma C. Esveld)

Amelanchier rotundifolia 'Edelweiss'
so: wholesale source (Firma C. Esveld)

Amelanchier rotundifolia 'Helvetia'
so: wholesale source (Firma C. Esveld)
Amelanchier stolonifera 'Fergie' (8/3)
ht: 5 ft. tall
ha: shrub
fd: larger than species typical
ch: USDA 3
ns: this name is a takeoff on the older named cultivars 'Princess Diana' and 'Prince Charles'
---