NOS
CELTIS
PAGE
Copyright 1998-1999, 2003-2004. New Ornamentals Society. All Rights Reserved.
Lawful for online access only by current society members.
All downloading, printing, saving to media, imaging, screen capture, or offline use is prohibited.
Duplication by any means, method, or technology is unlawful.
Do not link to this page.

Celtis - general works
li: Fontaine, F.J. Celtis. Dendroflora 1970 7: 33-34.
Celtis australis
so: Forest Farm
Celtis biondii
so: Forest Farm
Celtis caucasica
so: Forest Farm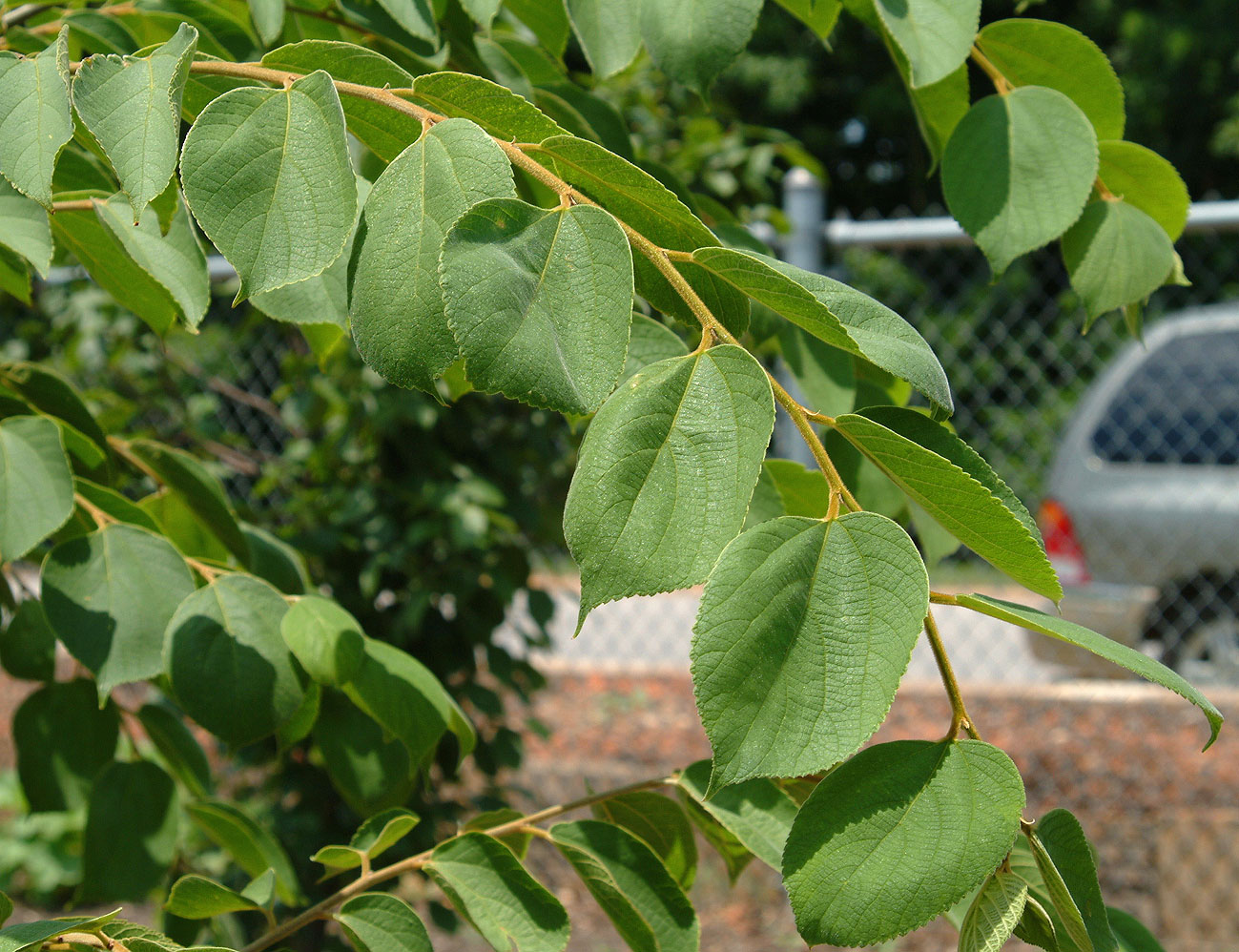 Celtis julianae - click image
JC Raulston Arboretum. June 2004. This species has wonderful velvety-sandpaper pubescence on both sides of the leaves and on the stems. The regular, darkish leaves
are appealing as is the vase-shaped, arching form of young trees. The tan twigs contrast perfectly with the leaf color. It has less of a weedy look than many of the
familiar species.
Celtis julianae
so: Forest Farm

Celtis laevigata 'All Seasons'
gr: vigorous
dr: witches broom resistant
or: Wandell of Urbana IL c. 1983

Celtis 'Magnifica' (Celtis laevigata x Celtis occidentalis)
ha: vigorous growth to vase shape
ht: 50-60 ft.
ll: larger than parent species
lc: glossy green
ir: resistant to leaf hoppers
or: Princeton Nur. of Princeton NJ c. 1983
pat: US #2795 in 1968
tm: unregistered trademark
ns: it may be argued this a Latin cultivar name and it should be renamed.

Celtis occidentalis 'Chicagoland'
ha: single & straight upright leader
gr: balanced but rapid growth
ll: leaves larger than species typical
ht: 7.8m in 15 years
wd: 4.2m in 15 years
ch: 3
tm: name is a registered trademark
or: Roy Klehm as seedling found in S. Barrington IL c. 1978
in: Klehm Nur. c. 1987

Celtis occidentalis 'Delta'
or: Lake Manitoba c. 1987

Celtis occidentalis 'Eagle Lake'
ha: globose and spreading
or: Eagle Lake Nursery
web: Regional Woody Plant Test Project (Alberta)

Celtis occidentalis 'Oahe'
ha: denser canopy with irregular oval form
ch: -20 to -30 F. in tests
gr: to 1.5 ft. per year
lu: very fast windbreak or screen
prop: seed grown strain but uniform
prop: field seedlings survive up to 95% unlike some strains
or: USDA Soil Conservation Service in 1984 from SD and ND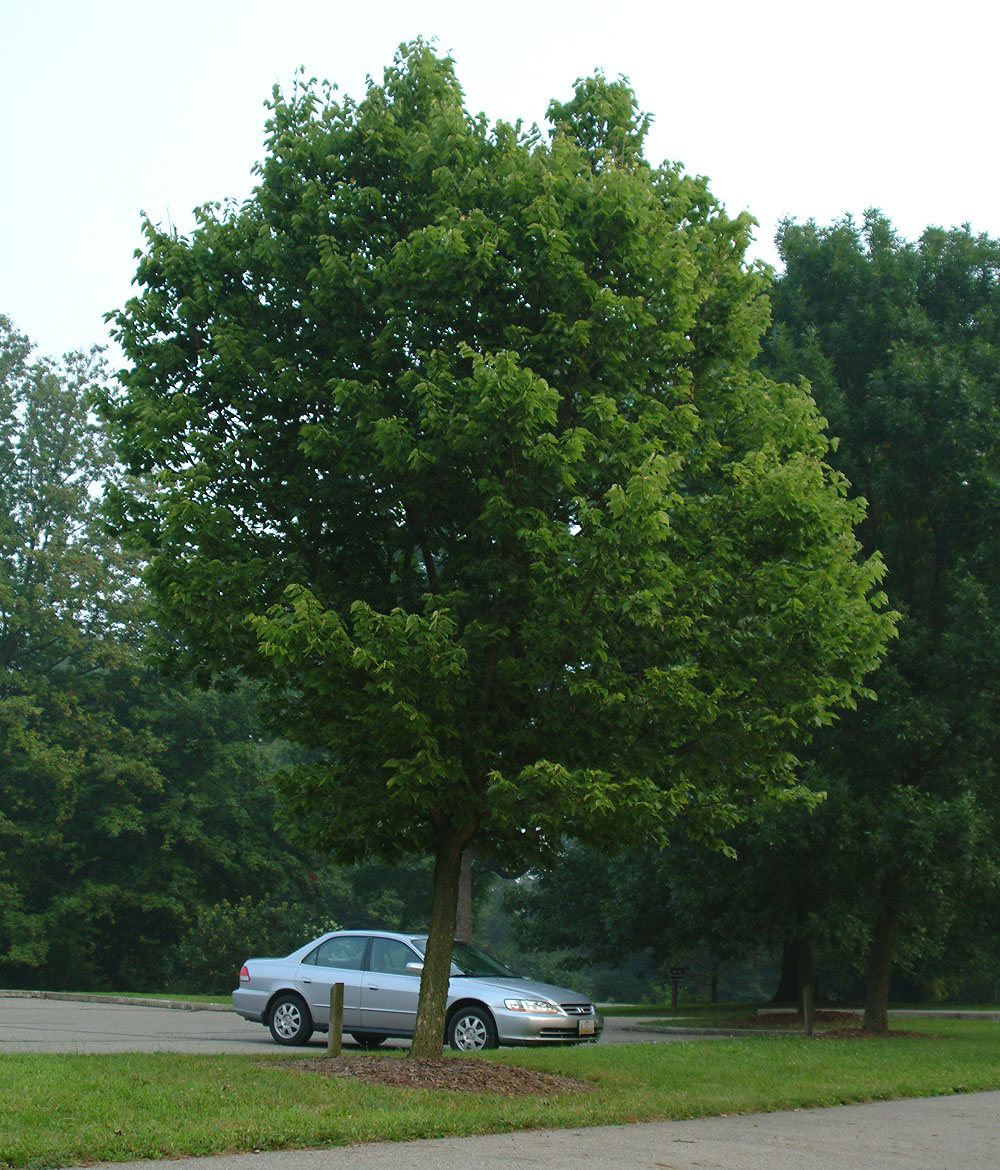 'Prairie Pride' - click image
Dawes Arboretum. Summer 2003. If you know this species as a raw thing, the neatness of this clonal habit is remarkable thing. Add in the broom
resistance and one has a winner for those tough, very cold spots. While the leaf is darker green it is not dark in comparison to the best maple
or ash cultivars for example.

Celtis occidentalis 'Prairie Pride'
ha: compact oval crown
ht: 30-40 ft.
lc: darker glossy green
lt: thicker blade
dr: witches broom resistant
pat: US #3771 in 1975
or: Wandell of Urbana IL c. 1975

Celtis occidentalis 'Windy City'
ha: upright & spreading but with a single leader
or: Roy Klehm as seedling in S. Barrington IL c. 1978
rd: 11 Oct. 1988
no: original plant was lost
ch: 3
gr: 'healthy'
rd: 11 Oct. 1988
in: Klehm Nur. c. 1985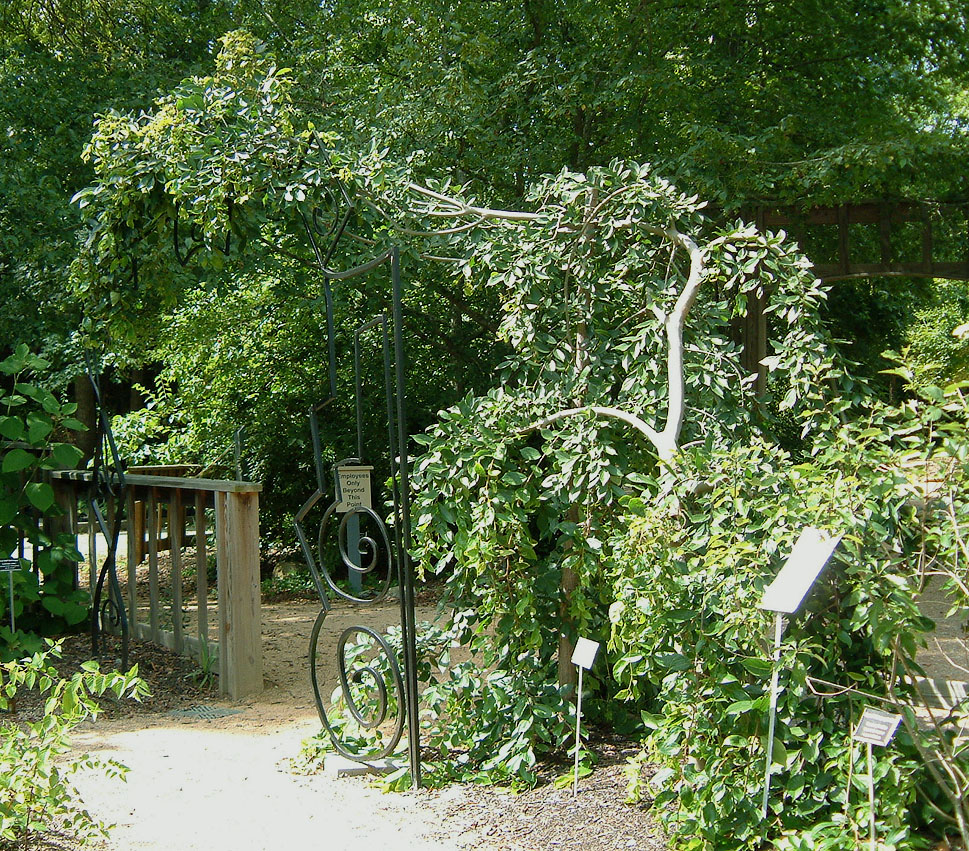 'Green Cascade' - click image
Totten Center, North Carolina Botanical Garden, Summer 2003. A plant in the process of training over a modern iron gate.
Celtis sinensis 'Green Cascade
ha: pendulous, vigorous, arching mound at first. Many of the plants seen in US gardens are being trained
ha: over entrance ways, gates, arbors, and so on. It is a wonderful strong and plastic weeper.
lu: the species is more durable than weeping Cercidiphyllum where hardy, especially in hot, sunny climates
ns: it is probably a correct naming of 'Pendula'
in: Camellia Forest Nursery, NC USA c. 1995

Celtis sinensis 'Pendula' invalid name
ha: pendulous
in: Arborvillage Nur. of Holt MO c. 1993
ns: The original name 'Pendula' is invalid. We do not know if this is the same as 'Green Cascade' or not.
Celtis tenuifolia
so: Forest Farm
Celtis tournfortii
so: Forest Farm