NOS
HELLEBORUS
FOETIDUS
PAGE
Copyright 2004. Laurence C. Hatch. All Rights Reserved.
All downloading, printing, saving to media, or offline use is prohibited.
Do not link to this page.
[Andorra form, from Andorra] - a listed from Ashwood Nurseries UK.
'Blaulaub' - leaves bluish-green
'Bowles' - yellowish-green flowers, very similar to [Italian form]
'Chedlow' - new foliage bright yellow
'Chedlow Variegated' - mottled foliage
[compact form] - smaller than species typical
'Curio' - variegated leaf
'Frenchy' - lacy silvery-green leaf with red tints, flowers green tinged red. Source: sunfarm.com
'Geddington Mist' - a listed name from the UK. Description needed.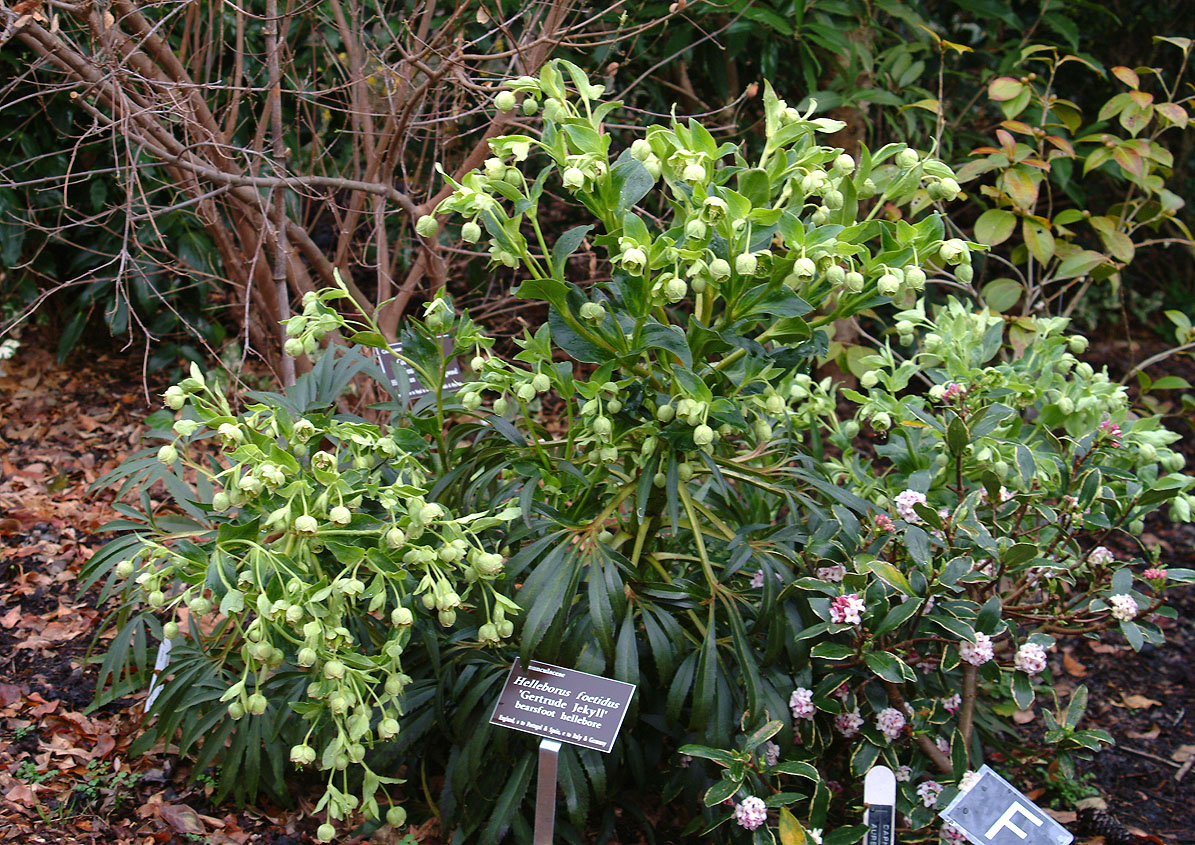 'Gertrude Jekyll' - click image
'Gertrude Jekyll' - 24-30 in. tall, robust, larger. Perhaps a synonym of 'MIss Jekyll Scented'.
'Gold Leaf' - golden-yellow foliage
'Golden Bullion' - chartreuse-green leaf color
'Green Giant' - 60cm tall, larger in most parts including bracts, darker green leaf, leaf more cut, up to 75 flowers per plant. Will McLewin intro.
[Italian form, from Italy] - as cultivated typically: 45cm, vigorous, floriferous, foliage more finely cut
'Kurt' ('Kurt's Strain') - a listed name. Description needed.
'Marlene' - narrower, more cut leaflet. Source, origin: sunfarm.com (selected before 2003)
'Miss Jekyll Scented' - narrower leaflet, more highly fragrant than some forms
'Piccadilly' - more vigorous, red pedicels, silvery-green leaves. From Piccadilly Farm.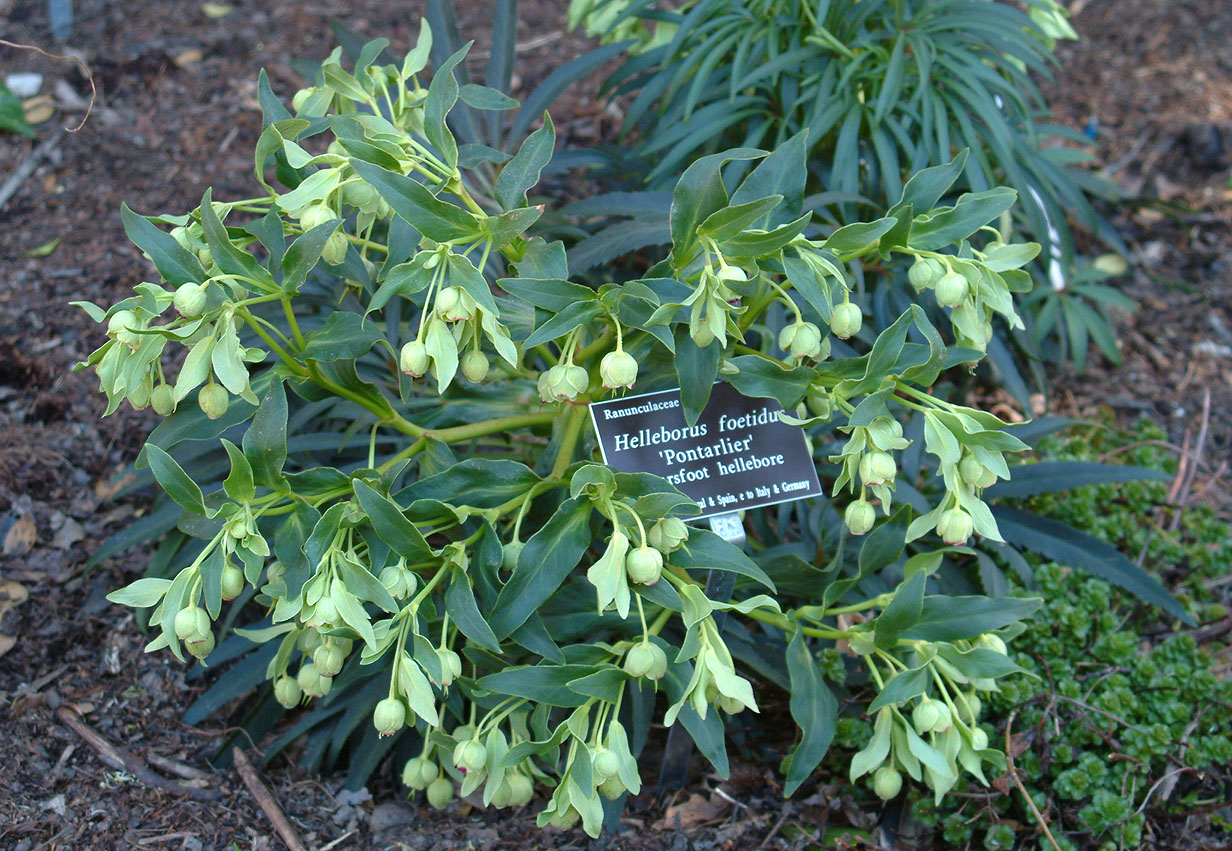 'Pontarlier' - click image
'Pontarlier' - pendulous light green flowers. The plant above at the Raulston Arboretum is our only reference to date.
'Red Silver' - flowers margined red, narrower leaflets.
'Ruth' - 45cm, very dark green leaf, bright yellowish-green flowers. Will McLewin intro.
[scented form] - more highly fragrant than species typical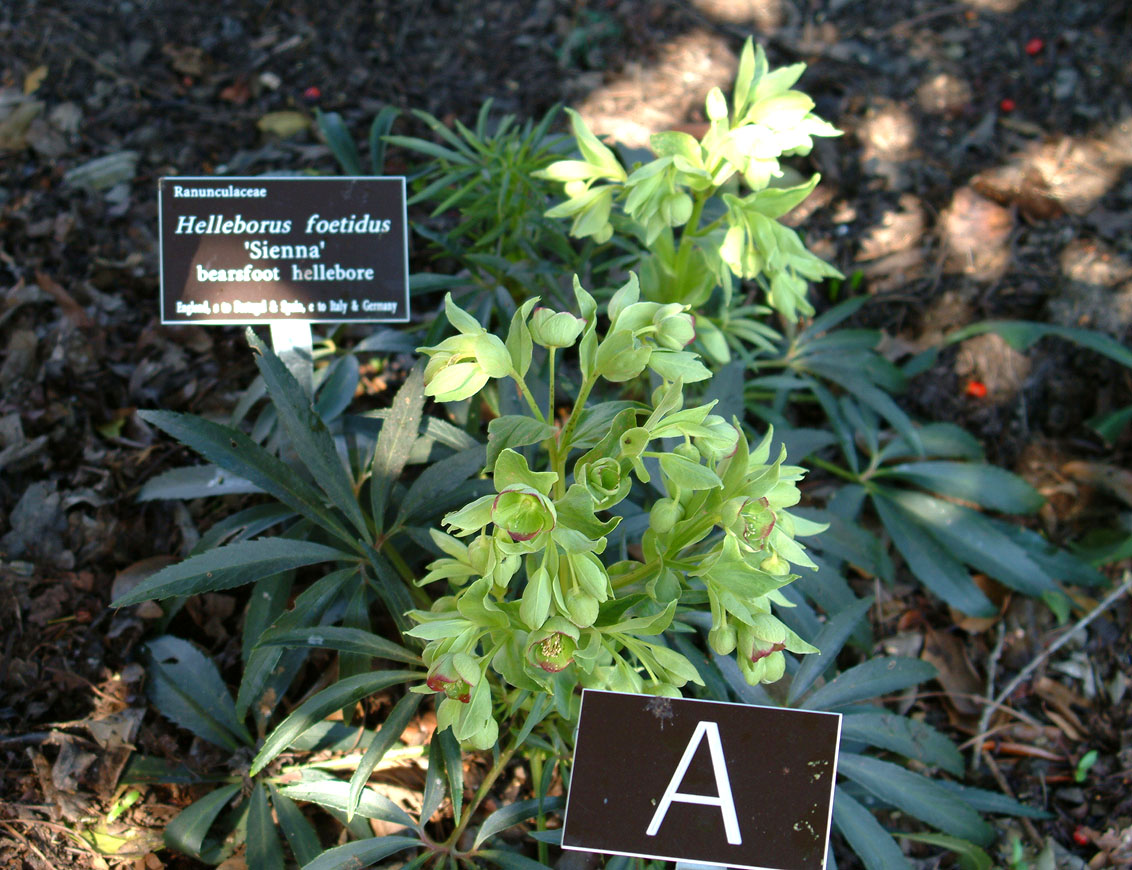 'Sienna' - click image
'Sienna' - light green flowers with a few red tints, more upright heads. From Sienna, Italy.
'Sierra Nevada' - 30cm , shorter, larger but fewer blooms
'Silvertooth' - leaves silvery-green, more distinctly toothed
'Sophron' - 45cm, more robust at times, flowers brighter green, dark metallic greyish-green leaf
'Tros-os-montes' - larger dark green, deeply serrate blade, larger light green flowers. Will McLewin obtained from John Archibald's seedling from near the Spanish-Portugal border.
'Wester Flisk' - flowers red tinged and margined, pedicels also redder, greyish-green leaf. Not all plants under this name show red tints but it is possible that more light is required for full pigmentation. The RHS has raised this taxon to the rank of Westr Flish Group.