SINGLE
Albus - white, single
Autumn Surprise - cerise eye, belongs to related species H. sinosyriacus
Banner - red eye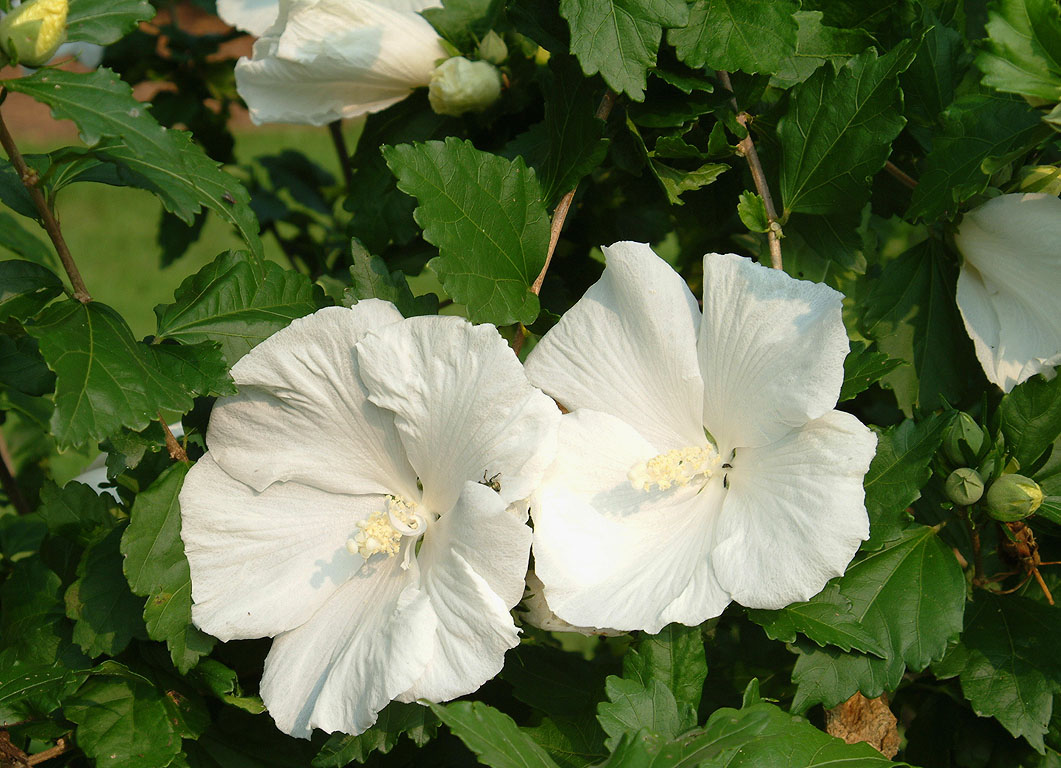 Diana - pure white, no eye, larger bloom, dark shinty leaf, no seeds
Dorothy Crane - red eye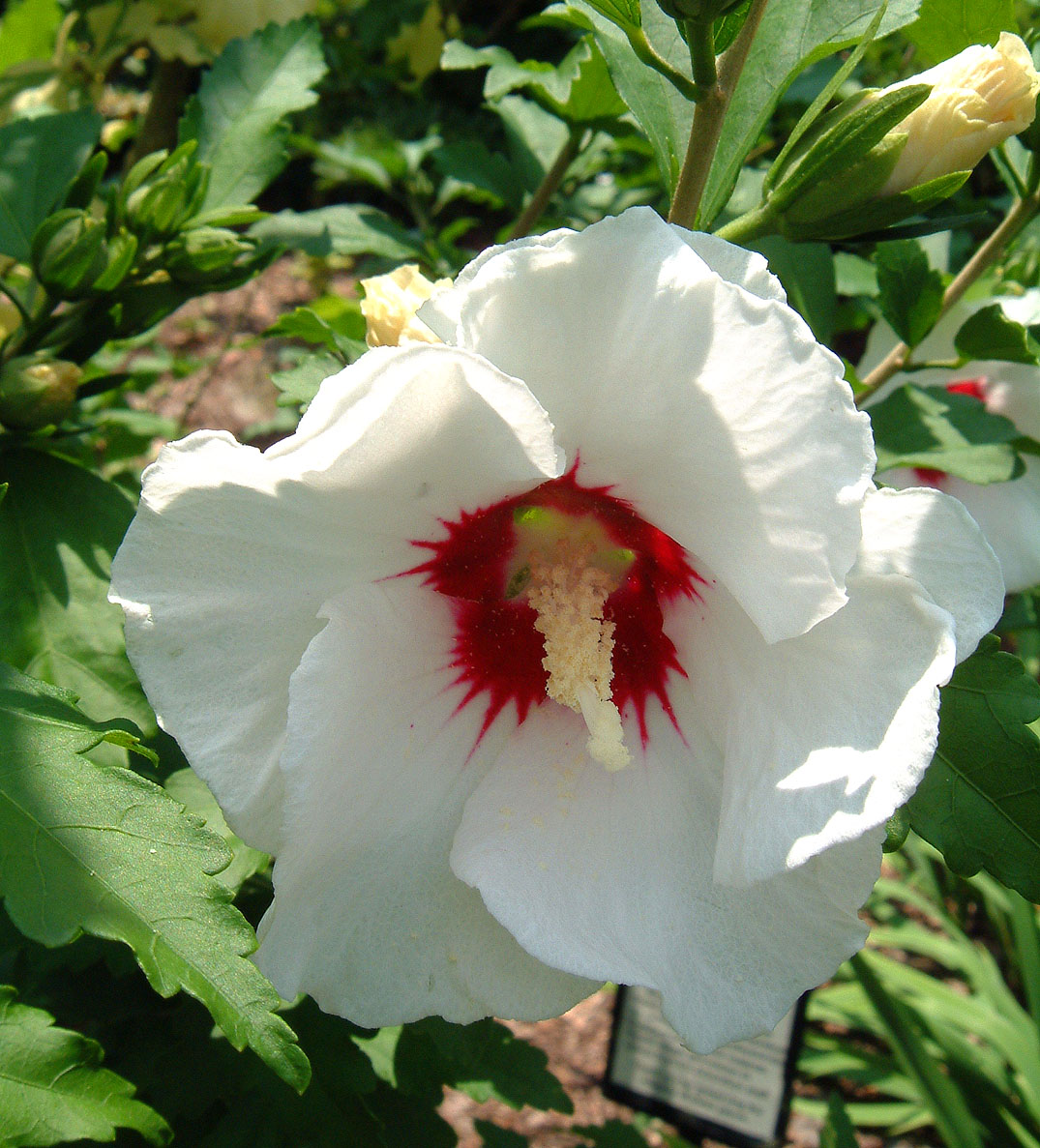 Gladys Smith - red eye, nice wide and ruffled petals.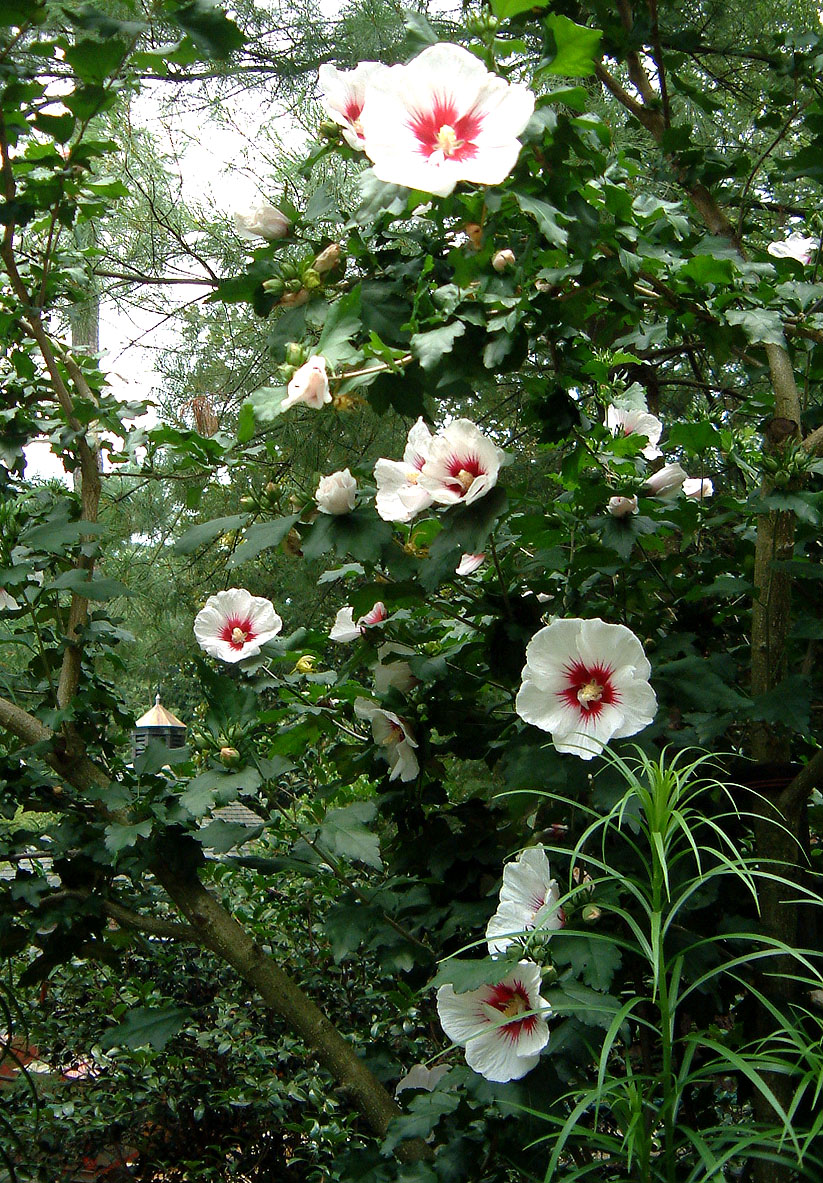 Helena - near white, red eye, floriferous, little or no seed, huge 5 inch+ size, not always good in the northern states
Monstrosus - red eye, old clone not valuable today
Red Heart - red eye, Helena is superior to it, French origin
Ruby Glow - very big cerise eye (to 25%), belongs to related species H. sinosyriacus
Snowdrift - pure white, Krussman says that leaves distinquish it from Totus Albus
Totus Albus - old clone, small by modern standards
William R. Smith (W.R. Smith, Rev. W. Smith) - pure white, no eye, nicely crimped petals, 'Diana' replaces it
Blue Bird (Oiseau Bleu) - near sky blue, red eye, huge 5 in. blooms, open widely, French origin, RHS AM, there are good and lousy clones out there so go with Blue Satin™
Blue Satin™ - rich lavender-blue, purplish eye, strong, uniform plants\
Brendon Springs (3/4) - single, nice clear lavender-purple shade
Celestial = Coelestis
Coelestis (Celestial) - light blue, smaller 3-4 in. bloom compared to 'Blue Bird'
Lilac Queen - light lilac, red eye, belongs to related species H. sinosyriacus
Mauve Queen - mauve, red eye
Meehanii - lilac-mauve, darker eye, lovely cream margined leaf, slower but worth it
Minerva - lavender, pink tints, red eye, glossy dark leaf, triploid (no seed)
Sky Blue - clear near true blue, long bloom period
Blush Satin™ - light pink, very large red eye, strong plants, longer bloom period
Hamabo - blush light pink, red to bronze eye, RHS AM, it is not Hibiscus hamabo Sieb. & Zucc., Blush Satin has it beat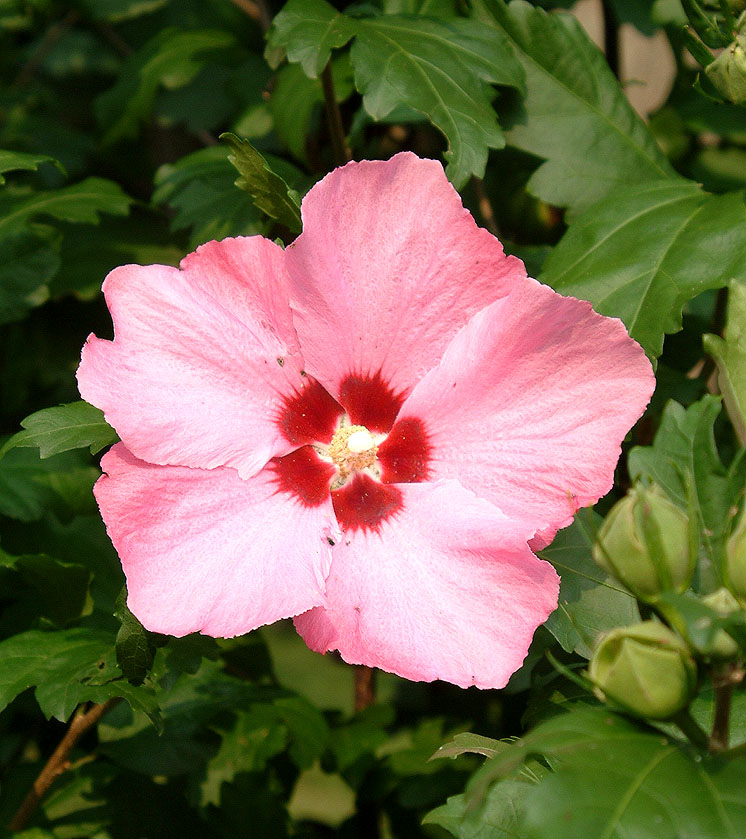 Aphrodite - dark pink, red eye, thick dark leaf, triploid (no seeds)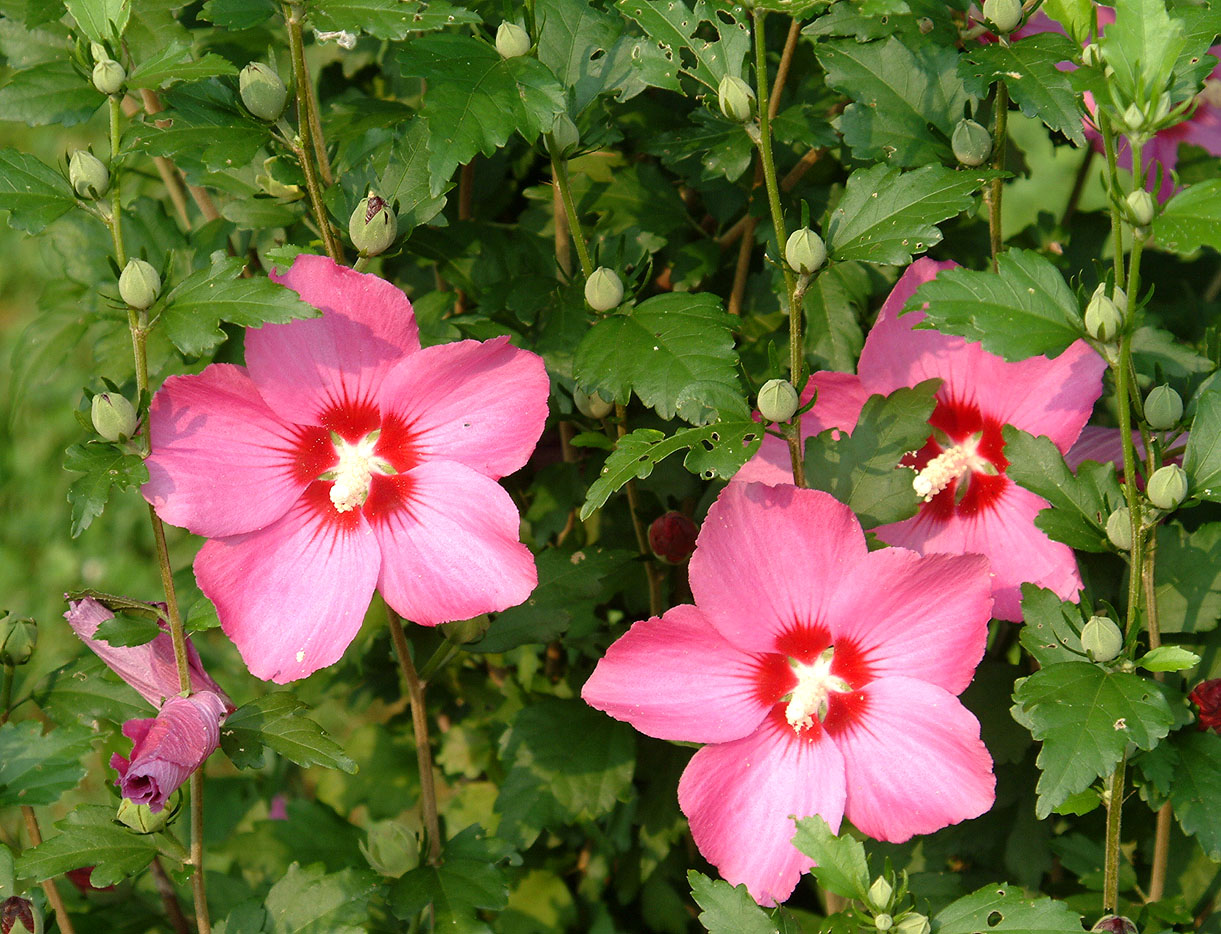 Collie Mullens - purplish-lavender and double by some accounts. The photo above is at occurs in the US trade and the Dawes Arb. - more of a rose-lavender with red eye, and obviously single.
Lenny (3/4) - rose-pink, trumpet-shaped, very long bloom period, 1.8m tall x 1.5m wide
Pink Giant - clean pink, red eye, large 5 in. diameter
Rose Satin™ - dark rose-pink, large red eye with showy veining, wide overlapping petals
Edna Frances - violet-red, 3 in. blooms, darker eye
Rubis - near red
Violet Satin™ - violet-red, large darker red eye, darker veins reach a third of the petals and give more interest
Woodbridge - rose-red, red eye, large diamter, selected from 'Rubis', RHS AM
Russian Violet - dark mauve-lilac, very floriferous, 'Blue Bird' x 'Red Heart'
SEMI- TO FULL
DOUBLE
Admiral Dewey - old American c. 1900 double, 5cm wide
Albus Plenus = Jeanne d'Arc
Cicola (3/4) - smallish double, red center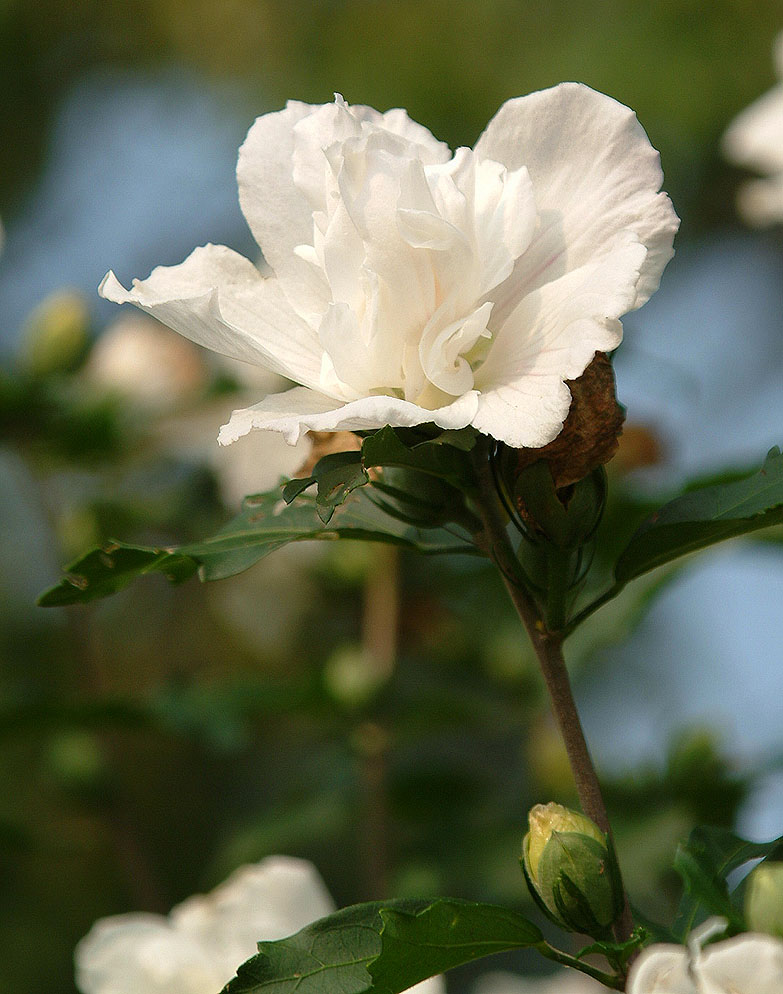 Jeanne D'Arc (Albus Plenus, Jean d'Arc) - full white
Speciosus (La Veuve, Speciosus Plenus) - red center, double
White Chiffon™ - anemone-like, lacy center
Coeruleus Plenus - violet-blue
Lavender Chiffon™ - lavender, reddish veins or spots are base, semi-double center, best double lavender to date (2002)
Bicolor = Lady Stanley
Blushing Bride - light pink fades white
Carneus Plenus - light pink, smallish red center. Lady Stanley is larger flowered
Comte d'Hainut - blush pink. Inferior to newer cultivars
Double Pink
Elegantissima - light lilac-pink, darker pink and red markings, sem-double, distinct from 'Lady Stanley' but the trades sometimes mixed them together.
Lady Stanley (Bicolor) - white with many pink tints, red markings and blotches
Leopoldii - white tinged pink, red center. Leaves more cut than Lady Stanley
Amarantus = Roseus Plenus
Duc de Brabant - dark reddish-pink, very full, buds dark red
Gussie - large diameter, rose pink
Lady Stanley - popular double
Ms. Julenne - cream margined leaf
Paeoniflorus- lilac-pink, usually is either Puniceus Plenus or Amplissimus in the trade
Roseus Plenus - dark violet-pink, less fading, very full double but often sparsely blooming
Amplissimus - red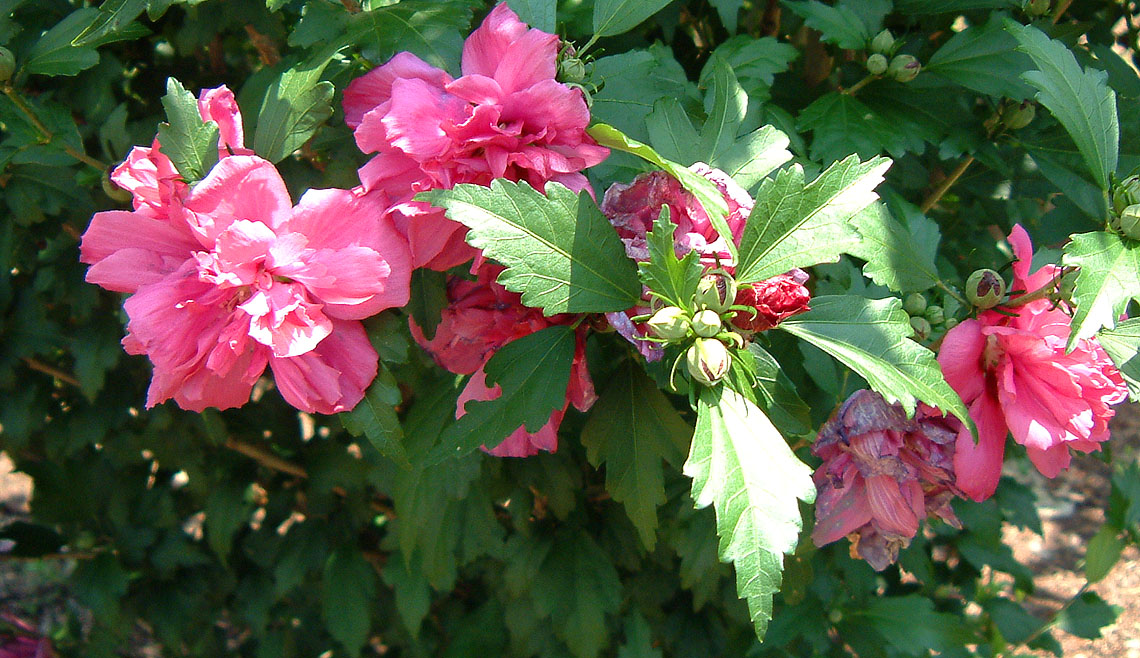 Boule de Feu (Comte de Flandre) dark red, full double, never striped as Duc de Brabant
Comte de Flandre = Boule de Feu
Duc de Brabant - dark red, often striped white, brownish buds
Freedom - single to semi-double, giving both flower types, a newer one from Don Shadow
Double Red - probably one of the named clones
Lucy - robust plants
Puniceus Plenus (Ruber Semiplenus) - large semi-double, earlier
Agnes - mauve-purple, large diameter
Amplissimus (Paeoniflorus) - violet-pink fades to violet
Ardens - pinkish-purple, earlier bloom
Bride - azure or violet-blue
Coeruleus Plenus - violet-blue. Violet Double Clair replaced it.
Purpureus Variegatus - reddish-lilac, creamy-yellow margined leaf
SANCHON YO 'Purple Ruffles' - semi-double, petals ruffles, dark purple, some to 8.5cm wide. Introduced by Notcutts Nurseries, UK 2003.
Souvenir de Charles Breton - semi-double, violet, slightly paler than Violet Clair Double
Violet Clair Double (Violaceus Plenus) - bluish-purple, semi-double