NOS
ITEA
PAGE
Copyright 2000-2004. Laurence C. Hatch. All Rights Reserved.
Lawful for online access only by current society members.
All downloading, printing, saving to media, imaging, screen capture, or offline use is prohibited.
Duplication by any means, method, or technology is unlawful.
Do not link to this page.
LITERATURE:
LIndstrom, J.T. and M.C. Pelto. 2003. Identification of Itea virginica cultivars using RAPD-PCR. J. Environ. Hort. 21(1): 6-10. (a very important reference on modern taxonomy for the garden. 'Merlot' and LITTLE HENRY could not be differentiated by these methods but all the other major clones could be delimited.)
'Henry's Garnet' later in the year (12/12/02 in NC) in what I like to call the stained glass phase. Just as the remaining leaves are about to depart, the garnets and purples are joined by a diversity fo wonderful orange, pink, amber, and carmine shades. There is nothing quite like it. This photo has had not one bit of color adjust or correction and is quite true to reality.
If one could manage to have a whole bank or row of this superior clone...you'll probably stop traffic. Click on this image for a larger version. LCH
Itea virginica 'Henry's Garnet'
ht: 3-5 ft.
fq: abundant
lc: brighter green than species typical
afc: fall color reliably bright red to dark red overall, including some rich orange to purple shades. See photo above.
or: Mary Henry and Swartmore College's Scott Arboretum
in: Woodlanders Nur. Aiken SC USA
Itea virginica LITTLE HENRY™ ('Sprich')
ht: 24-36 in.
ha: mounded, semi-dwarf, compact
afc: bright red to bronze to purple shades
or: Richard Feist of Hummingbird Nur.
pat: US #10988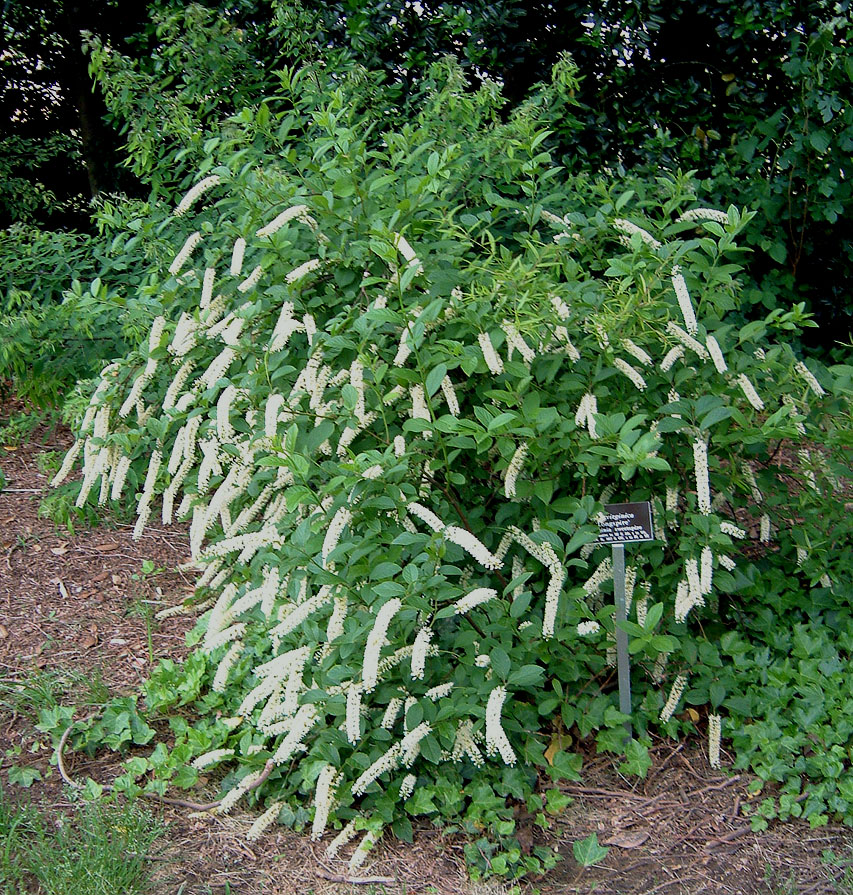 'Longspire' - click image to enlarge
Raulston Arboretum. Summer 2003.
Itea virginica 'Longspire'
fd: inflorescence 6-8 inches long - longer than typical
afc: later than species typical
lu: proven heat tolerant in the Southern US
or: Woodlander's Nur. Aiken SC USA
Itea virginica 'Merlot'
afc: rich red fall color
Itea virginica 'Sarah Eve'
ht: 4-5 ft. tall
gr: slightly slower than species typical
fc: pedicels pink so entire show appears light pink. Becomes white with maturity
lc: reddish tint to new growth
afc: bright red shades but not showy in all regions
or: found by Nancy Bissett in Central FL
ch: 6 vs. 5 for most other cvs. - this is from a Florida population
in: Woodlander's Nur. Aiken SC USA
Itea virginica 'Saturnalia' ('Saturnalea')
ha: 'dense somewhat arching clumps' Niche Fall 1995: 7
ha: more restrained than 'Henry's Garnet' over the same time period.
fc: white - apparently typical
ac: reliable orange, red, hot pink, and yellow for at least 3-4 weeks. Described
ac: as 'electric sunset shades' which not all clones show.
or: Larry Lowman c. 1994 (Arkansas/AR)
ns: both spellings of the name (-ea and -ia) appear in catalogs.
afc: yellow to orange and red shades unlike 'Henry's Garnet'
li: Niche Gardens Catalog Fall 1995: 7
Itea virginica SCARLET BEAUTY™ 'Morton'
ht: 4-5 ft.
ha: upright, more vigorous than many seedlings
afc: scarlet red, reliably showy
in: Chicagoland Grows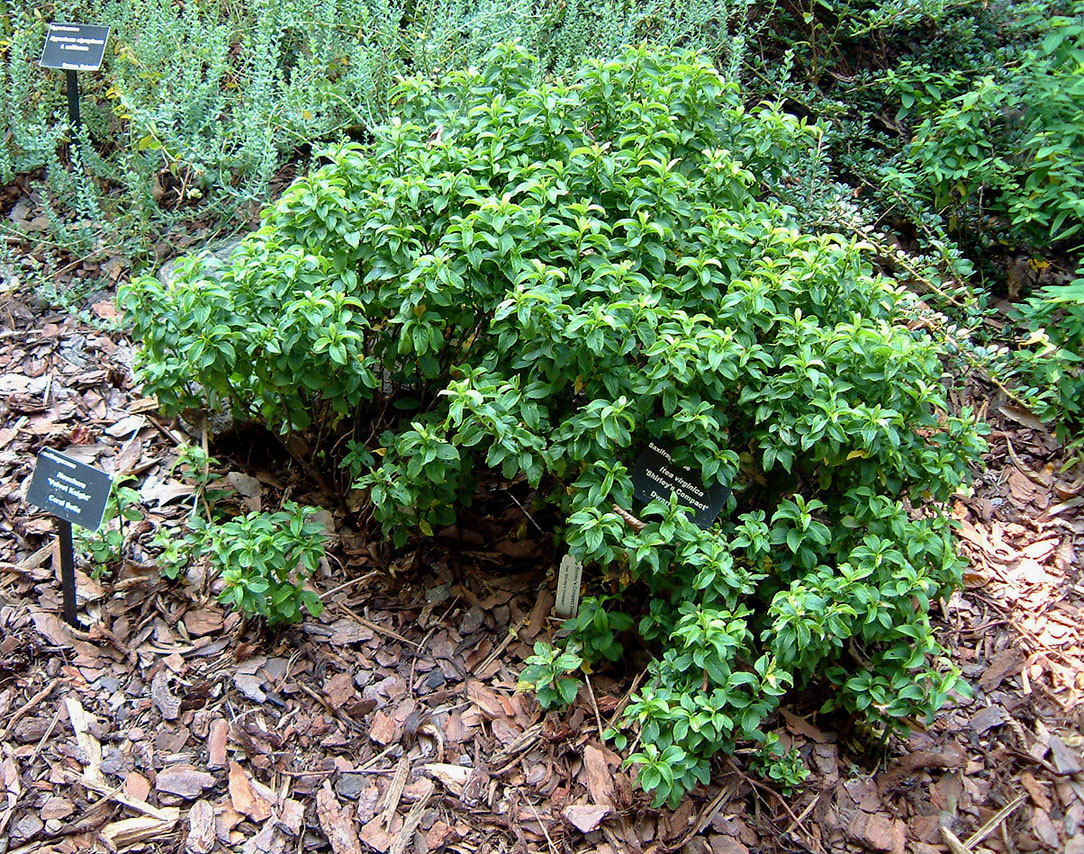 click image to enlarge
Atlanta Botanical Garden. June 2003. I nearly mistook this for one of the new shrubby, adult phase Hedera shrubs. It is very unlike the species and is a true dwarf.
Itea virginica 'Shirley's Compact' (3/01)
ha: very compact, dwarf - smallest known cultivar (3/01)
gr: 1-2 in. per year
ll: blades only 0.5 in. long
or: Shirley Speight of Biltmore Gardens, Asheville NC USA
in: Nurseries Caroliniana 2001 to US trade
so: Nurseries Caroliniana