Copyright 2003. New Ornamentals Society. All Rights Reserved.
Lawful for online access only by current society members.
All downloading, printing, saving to media, imaging, screen capture, or offline use is prohibited.
Duplication by any means, method, or technology is unlawful.
Do not link to this page.
The original tree of Pinus bungeana 'Silver Ghost' at the Dawes Arboretum in Heath, Ohio USA. This clone is widely considered to be the most beautiful one known in this genetically varied species. The combination of silver, gray, tan, and brown exfoliating sections is very pleasing. It's among the most beautiful pines for bark and I cannot think of any woody more appealing in these paler tones.

Before I forget: the specific epithet is pronounced bun-gee-anna like a girl who likes jumping off tall objects.

'Silver Ghost' is part of a large grove at the Dawes (photo below) and is the one on the far left. One other tree in the grove has about the same colors and patterning but perhaps less elegant overall. Darker examples appear and one is shown on this page in the right cell.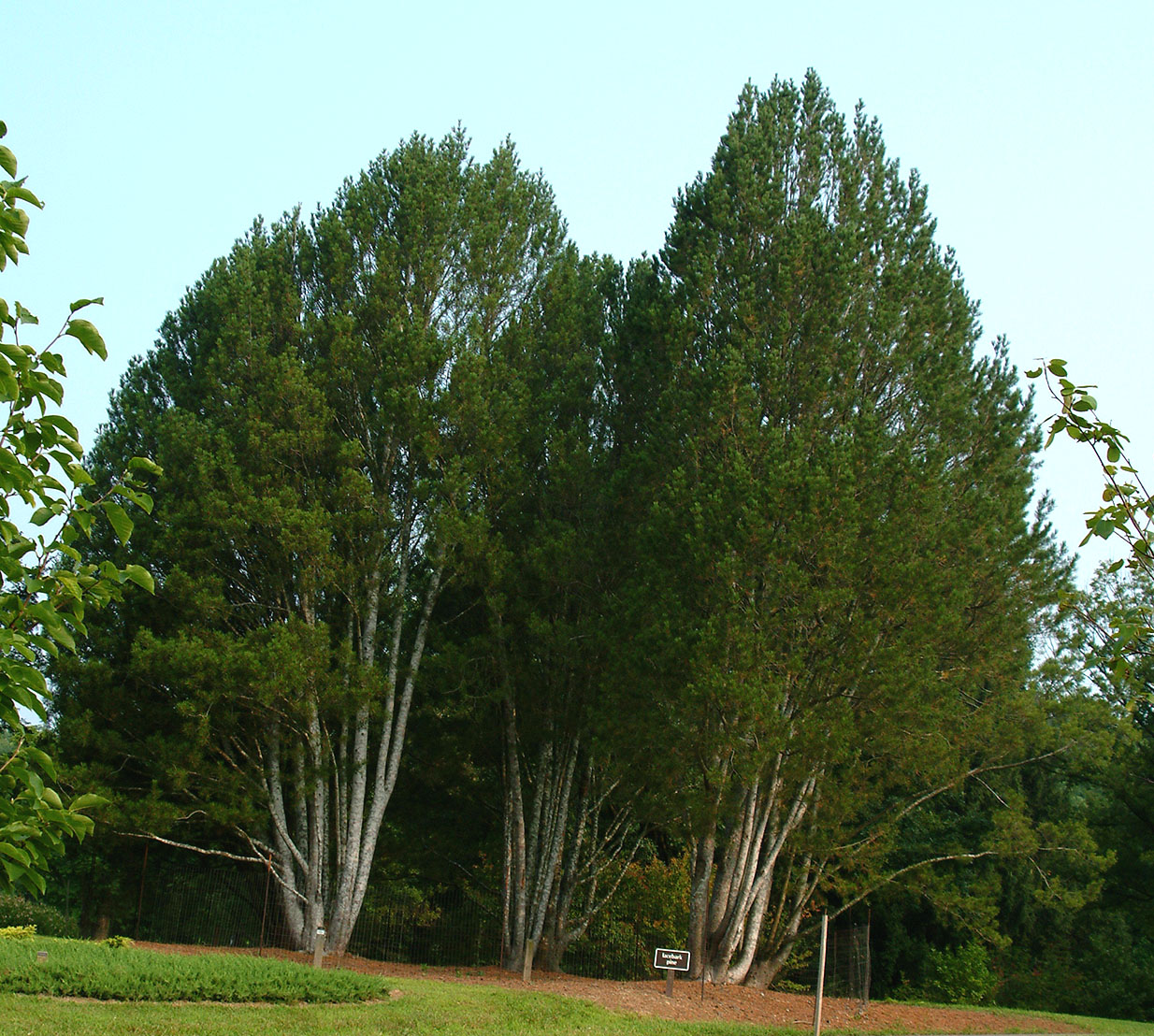 Click all images on this page to enlarge.
Probably more people have seen this solitary and unnamed member of the species at the National Arboretum in DC than any tree in the US. It sits out on a huge grassy lawn between the crapemyrtle, maple, and conifer collections. This superb specimen is almost an architectural statement, speaking richly of simplicity and isolation. I say almost because these days the USNA's once worldclass plant collections are in horrible disrepair and some of the wonderful scenes appear by accidental neglect.

The first time I saw the tree decades ago I figured it was a columnar beech and ignored it the first couple of drives through. After all, one reasonably expects an columnar-ovoid olive green tree with shinny gray bark to be a beech or occasionally a wayward poplar. Once realizing my mistake, I parked quite illegally on the grass (for the nearest lot was a 20 minute walk) and had a dendro-spiritual experience of the highest order.

The bark is whiter, smooth, and with less mottling effect than the famous 'Silver Ghost'. There is mottling but it is fainter and with a less diverse palette. Click the image below for an even closer look into the upper canopy.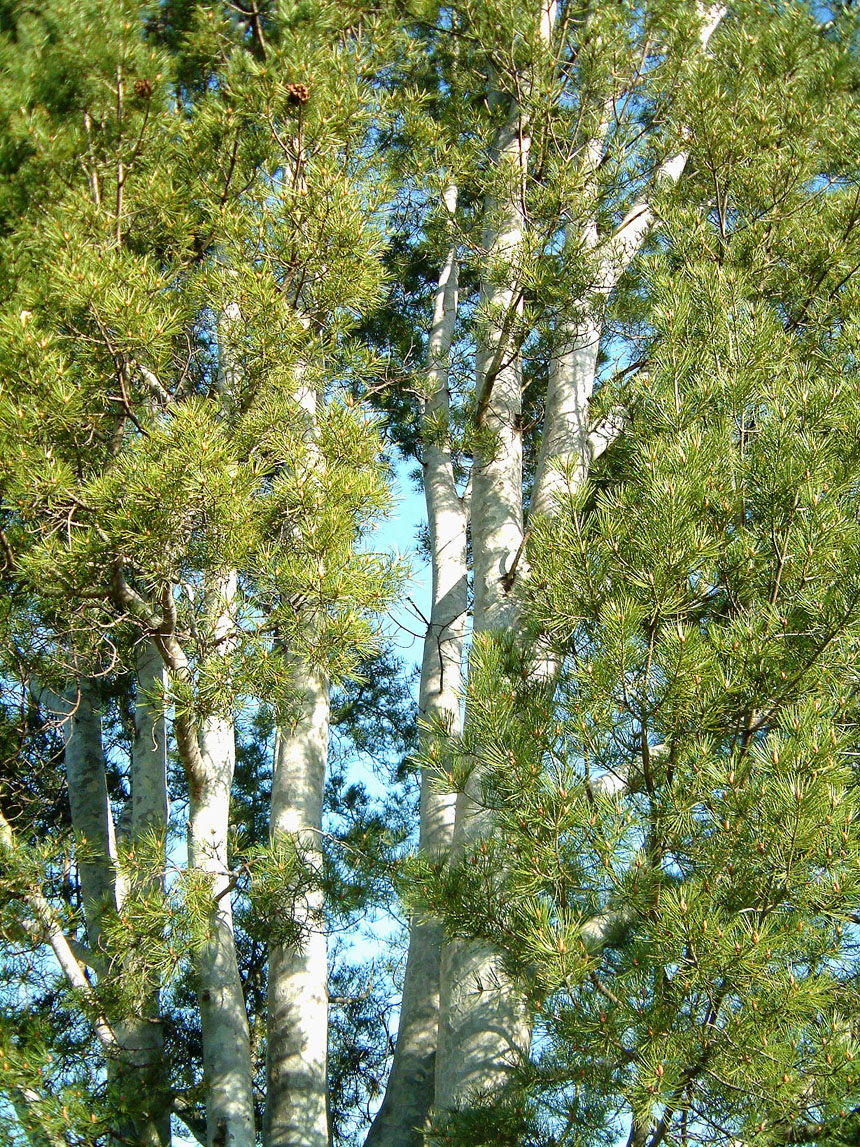 DenOuden & Boom in their great conifer masterpiece state the bark is "on old trees chalky white". This tree has a head start there and is not much older than the Dawes examples so I think we can be sure the differences are not age related. Certainly the younger, narrower limbs of this tree are never mottled as 'Silver Ghost' and such limbs would retain more of the youthful traits.
I think this NatArb plant is worth naming too. It appeals in a very different way. There are some "silvery bark" offerings around and I suspect someone has already tried to propagate it a time or two but without identifying the source. Getting anything like the USDA or federal goverment to approve naming of a plant is like trying to get a new momument built on the mall. If we can find stock connected to this lovely tree we'll let you know. Anyone know?
Pinus bungeana is variable as you have seen with the Dawes and USNA examples. In fairness to the gene pool, this darker and browner example at the Dawes (adjacent to the famous ghost) is worthy of our study. I see more rich, strong reddish-brown patches than in any of silvery sorts, some of these a strng burnt orange. I suspect some red or brown pigment is regulated genetically for a whole spectrum of looks from white chalky (no pigment) to rich reddish-brown (having the pigment in spades).

The Dawes has a half dozen other examples ranging from this dark to these shades plus a slight smattering of silvery and gray. If we knew nothing of the silvery examples I suspect this browner sort would be named. They are still among the showiest conifers for bark even if less bright and shocking. The neat erect habit of any Lacebark or Bunge Pine is always good.

We understand the clone 'Rowe' from the Rowe Arboretum is also quite pleasant in the silvery-flaky group but with a more compact habit. There are two dwarf globose cultivars named 'Dwarf Fairway' and 'June's Broom'.

LCH