Copyright 1998, 2000-2003. New Ornamentals Society. All Rights Reserved.
Lawful for online access only by current society members.
All downloading, printing, saving to media, imaging, screen capture, or offline use is prohibited.
Duplication by any means, method, or technology is unlawful.
Do not link to this page.
---
Pseudotsuga menziesii 'Albospica'
lc: new growth white becoming bright green
so: probably lost to gardens
Pseudotsuga menziesii 'Blue Wonder'
ha: pyramidal, branches broadly spreading
ll: 3.0-3.5cm
lc: glaucous blue
Pseudotsuga menziesii 'Carnefix Weeping'
ha: upright weeping with curving twisting leader - can be variable
lc: dark green - darker than 'Pendula' which is often light olive green
or: Warren Carnefix found in the mountains of ID
so: Iseli Nursery (wholesale) 1-800-777-6202
li: Iseli Nursery Catalog 1992: 27
Pseudotsuga menziesii DEEP MOUNTAIN® (3/4)
ha: dense, pyramidal, 8-12 inches growth a year as young plants
lc: darker green
lt: later bud break for frost resistance in cold climates
so: Carino Nurseries (online catalog 2004)

Pseudotsuga menziesii 'Duseks Weeper' (2/01)
ha: weeping with branches twisting and contorting in many directions
so: Collector's Nursery
'Fastigiata' - click image to enlarge
US National Arboretum. Spring 2003. As much as this looks like a sheared Christmas tree, the density and sharp apex are all the work of genetics. The trees (there are at least
two there) have thinned internally over the years, but that has one positive - it helps reveal the carefully formed erect branching. Having studied columnar and ovoid redcedars in much detail, I see very similar types of branching genetics at work. Everything is pushed up and closer at the apex, giving atypical closeness of shoots and sometimes a thinnish base. Those narrow limb angles press everything up and together. Planted among informal pines the effect is simply more shocking than photography can capture. Driving up the road you have no doubt you've reached a true pinetum. LCH.
Pseudotsuga menziesii 'Fastigiata'
ha: columnar to narrowly pyramidal, limbs conspicuously erect
lc: gray-green
Pseudotsuga menziesii 'Fletcheri'
ht: 1.0-3.0m
ha: dwarf, mounded to flat globe, spreading
lt: radially arranged needles - species is more flat
lL 1-2cm
Pseudotsuga menziesii 'Fournier's Greenspire' (6/02)
ha: pyramidal to columnar, compact, dwarf, slightly twisted limbs
lc: green
so: Greer Gardens (online catalog 2002)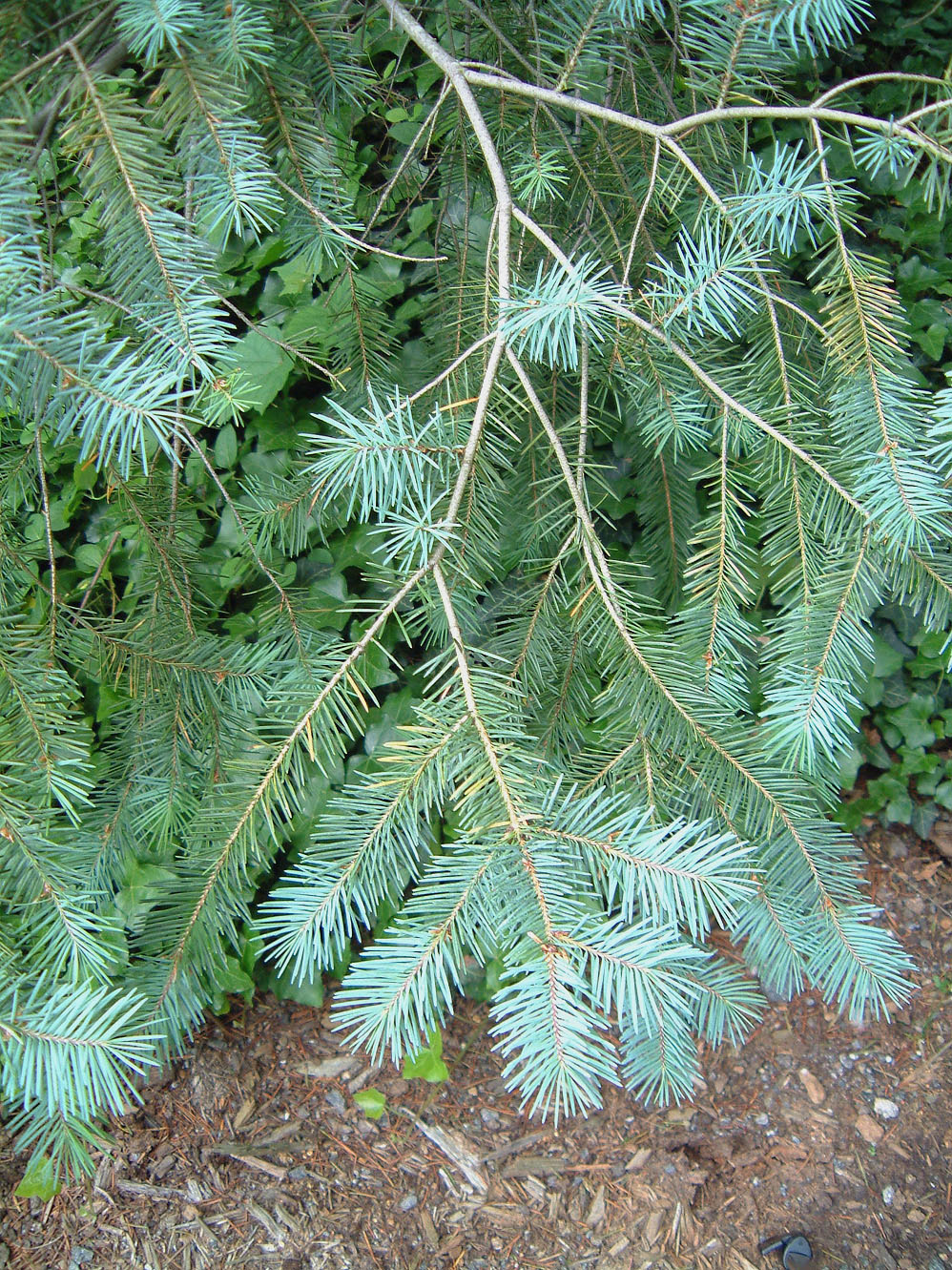 var. glauca ('Glauca') - click image to enlarge
Biltmore Estate, Asheville NC. May 2003. This lovely tree grows in the big forests there that date from the late 1880's. This forest was laid out (forestors
don't do design) and originally managed by the legendary Gifford Pinchot, first chief of the US Forest Service.
Pseudotsuga menziesii var. glauca ('Glauca')
lc: glaucous blue
ns: many cultivars belong roughly to this wild forma.
Pseudotsuga menziesii 'Graceful Grace'
ha: semi-pendulous and semi-dwarf to slow
lc: more blue than most clones
ll: longer
ht: original tree 6 ft. when others of same age were 10-12 feet
or: Roy Smeltzer of Red Lion PA around 1955 as seedling in Springvale PA
li: Wyman, D. 1969. Plant registrations. Arnoldia 29(1): 6-7.
Pseudotsuga menziesii 'Hendrick's Park' (6/02)
ha: dwarf
or: witches broom in Henrick's Park, Eugene OR USA
so: Greer Gardens (online catalog 2002) - first introduction
Pseudotsuga menziesii 'Hesse Blue'
lc: very bright blue

Pseudotsuga menziesii 'Iseli Weeping'
ha: irregular and pendulous
lc: dark green
gr: slower than 'Pendula' which can be too large for many gardens
li: Iseli Nursery wholesale catalog 1988: 40

Pseudotsuga menziesii 'Little Jon' (popularly 'Little John')
ha: dense pyramidal
ht: original plant wa 18 in. when others of same age were 6-8 feet (10 yrs.)
ll: shorter
gr: slower dwarf to semi-dwarf
or: seedling found as Christmas tree plantatin in 1967 by Albert Ziegler
or: of Elizabethtown PA
li: Wyman, D. 1969. Plant registrations. Arnoldia 29(1): 7.

Pseudotsuga menziesii 'Loggerhead' (10/00)
ha: dense, low-spreading with nest-type shape
gr: 3-5 in./year
or: Clif Graff as witches broom in Columbia River Gorge OR USA
in: Iseli Nursery c. 2000
so: Iseli Nursery
Pseudotsuga menziesii 'Pendula'
ha: weeping, often irregularly so, commonly arching, sometimes bizarre, other times quite artistic.
eval: modern weeping clones, among them 'Winky's Pinnacle', 'Graceful Grace', 'Iseli Weeping', and
eval: 'Carnefix Weeping' are recommended for specific traits and colors.
Pseudotsuga menziesii 'Salmon Creek' (2/01)
ha: dwarf, globose, very dense
ht: about 10 in. tall x 10 in. wide (like a "soccer ball") in 5 years
or: found by Collector's Nur. staff as a backyard witches broom
in: Collector's Nur. 2001
so: Collector's Nursery
Pseudotsuga menziesii 'Torquis'
ha: upright with limbs curving, twisting and non-directonal
gr: slower than species typical
lc: blue-green
or: found at test planting near Grangeville ID.
pat: US #7553 by S.P. Wells in 1991
Pseudotsuga menziesii 'Wind Surfer' (2/01)
ha: upright with secondary branches hanging down. Lower branches creep along the ground.
lt: "needles radiate around the shoots and are blunt on the ends"
in: Collector's Nursery 2001
so: Collector's Nursery
Pseudotsuga menziesii 'Winky's Pinnacle' (5/02)
ha: extreme weeping form
so: Cedar Lodge Nursery (online catalog 2002)